Ben Thanh Market is situated in District 1 in the heart of Ho Chi Minh City at the intersection of Le Loi, Ham Nghi, Tan Hung and Le Lai streets. Shops close late afternoon with shopping best done in the morning before the heat of the day hits. One of Saigon's oldest landmarks, Ben Thanh offers a great atmosphere that is absolutely authentically Vietnamese. Being a bustling market in the daytime and a social center after sunset, Ben Thanh Market is absolutely a must-see attraction of the most dynamic city of Vietnam.
Constructed by the Brossard et Maupin Construction Company in 1912, it was earlier called New market or Saigon market to distinguish it from Old market. After 1957, it was renamed Ben Thanh market.
According to architectural experts, Ben Thanh market is considered a historical monument, as it bears the unique traits of a 100-year-old market without feeling irrelevant or looking out of place in the busy city life. If anything, it seems to glisten among the surrounding modern and contemporary buildings.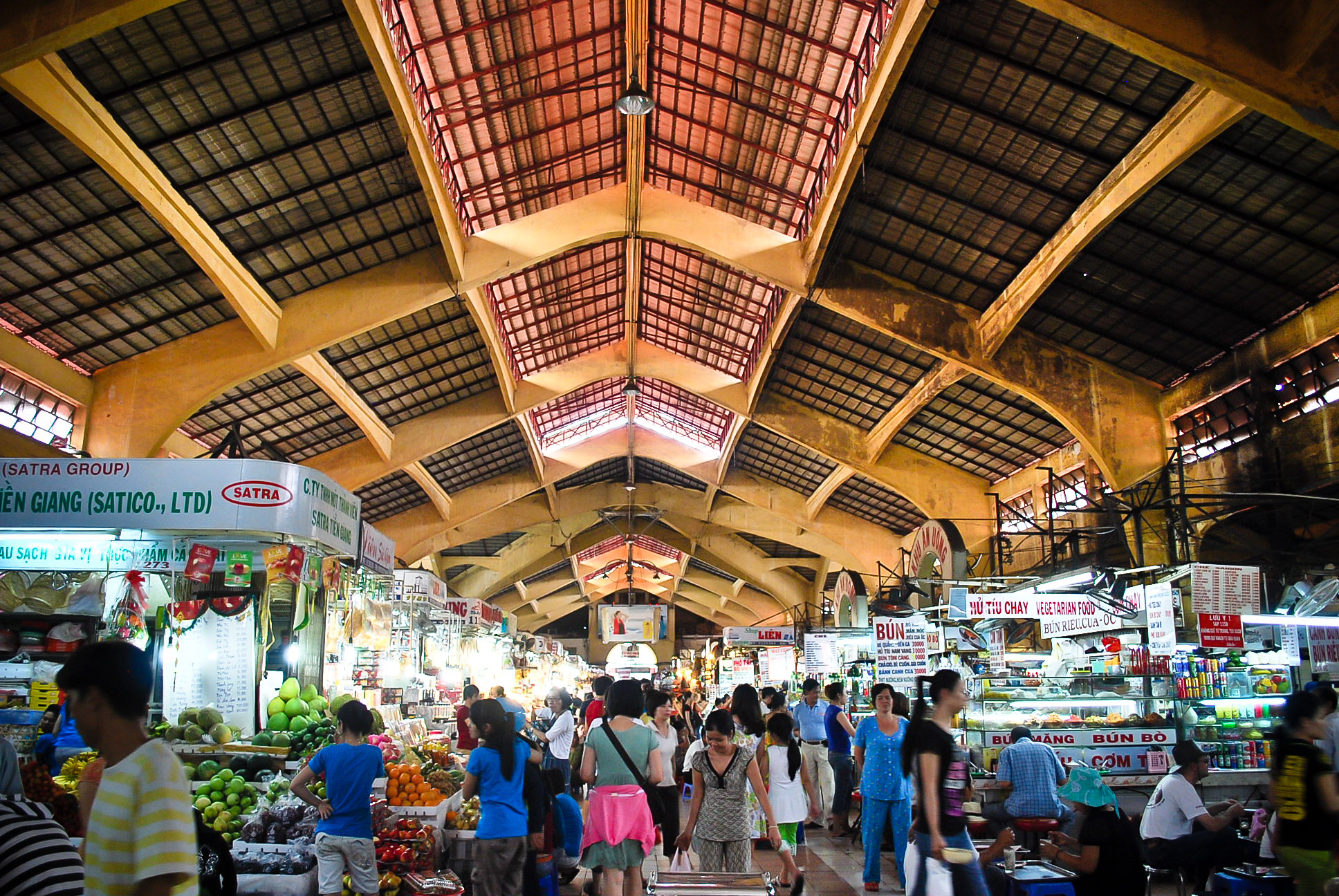 Today, because the market possesses one of the most crucial locations in District 1 (the intersection of Le Loi, Ham Nghi, Tran Hung Dao Avenues and Le Lai Street), transportation is extremely convenient and trade is bustling. In the morning, you can find almost everything from dry food to clothes for a reasonable price. The market atmosphere can sometime be a real hustle and bustle, but it is an exciting experience after all. However, always remember that bargain is a must in any Vietnamese market.
Ben Thanh has rows and rows of goods specifically to serve the demands of tourists, such as souvenirs, unique clothing, silks, arts and crafts and brocades, but beyond products, what people buy on their trip to Ben Thanh market is the uniqueness and edgy style that reflects life in Ho Chi Minh City. Ben Thanh market has now become one of the destinations of all city tours in Ho Chi Minh City.
Save your appetite and head to Ben Thanh Market in the evening where you can be served some real street style local food at one of the 20 or so eateries that surround the market building. Chefs will cook in front of you with an endless array of cuisine choices including vegetarian noodles, fresh seafood, crispy rice pancakes and steamed cakes. You will be in great local company as most of the places thrive with locals enjoying a bite to eat and a quick drink on their way home from work.
For shopping heaven head to the market preferably early morning to pick up some bargains including lacquer ware, bamboo goods, arts and crafts. Also on sale are clothes, textiles, luggage, watches and an assortment of electronic goods. Spices, nuts and local fruits heavily scent the air which is also filled with the chatter of tourists and locals haggling for bargains. Do note however that some items will be strictly fixed price.