The internet is the most efficient and convenient way to stay in touch with family, friends, and business partners while traveling abroad. Each country has different regulations and methods of accessing the internet with varying costs. In this article, we will guide you on how to access the internet while traveling in Vietnam with the lowest and most stable cost.
How to access the Internet in Vietnam?
The Internet has experienced explosive growth in Vietnam in recent years, and it is now easy to find free wifi access points in places such as cafes, restaurants, and hotels. Additionally, purchasing a high-speed 4G sim card in Vietnam is also very simple, with three major networks available: Vinaphone, Viettel, and Mobiphone. Generally speaking, to easily access the internet in Vietnam, it is recommended that you buy a 4G sim card to use while traveling, and use free wifi in hotels to enjoy a faster connection and conserve your sim data.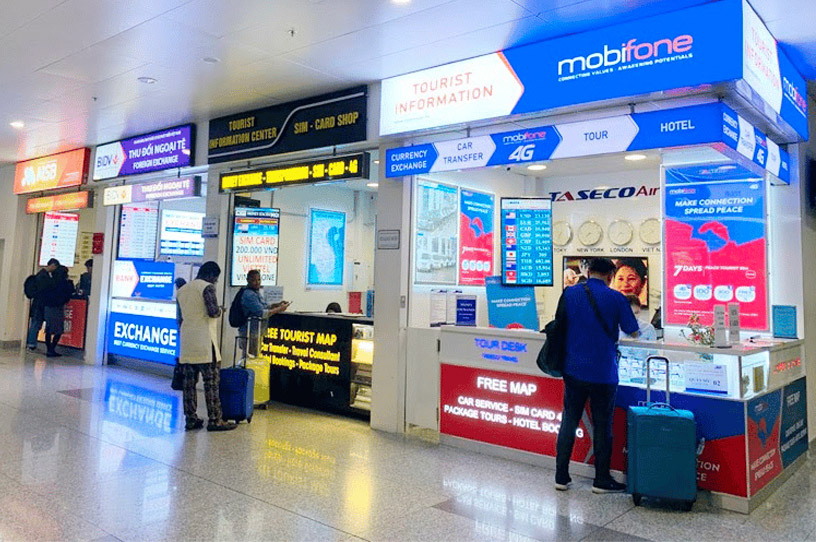 Read more: What to wear in Vietnam
Where to buy a 4G sim card in Vietnam?
Upon arriving at the airport in Vietnam, you can easily purchase a 4G sim card at the sim selling counters located there. The seller may request to see your passport or other identification documents when you purchase the sim card. Additionally, it's important to research the different types of sims available in order to select the one that best suits your needs, whether that be a sim for only internet data, a sim for only making calls, or a sim that combines both. The price of a 4G sim card in Vietnam is relatively inexpensive, depending on the package you select. We have provided some packages and prices below.
Note:
Setting up a new sim card may cause you to misplace your old one.
If you're not in a rush to purchase a sim card at the airport, it may be better to ask a tour guide to help you find a better sim card in the city center.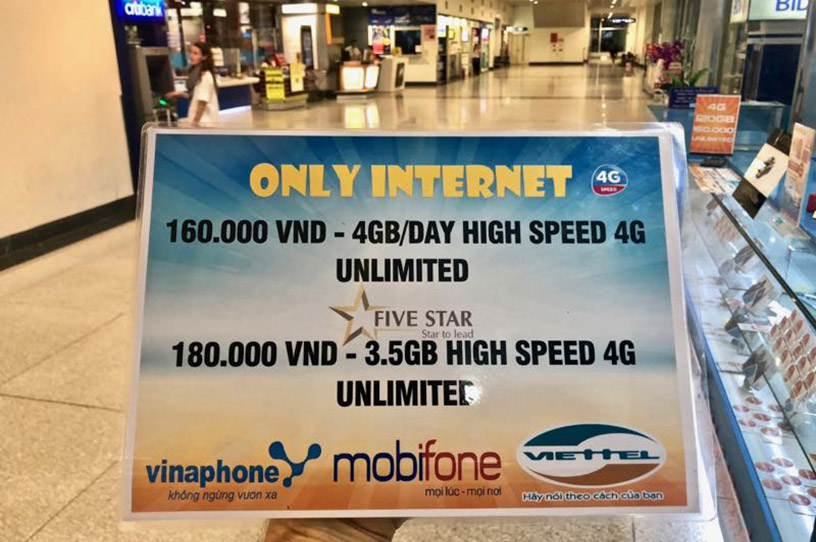 Read more: Best time to travel Vietnam
SIM packages and prices
There are many different SIM packages available, each with varying prices. Here are some examples of data packages that you can inquire about at the SIM counter.
Vinaphone – Tourist SIM VinaPhone: Free 50 minutes calling within Vietnam, 50 free SMS, Free 1GB data for daily and continuous use for 15 days, Price about 10$.
Viettel – VN15_NEW: Talk time: 0 minutes, Data: 10 GB, Use date: 15 days, Price: 10$.
Mobiphone – HDP200: On-net voice: 200 minutes, DATA: 6.50 GB, Use date: 30 days, Price: 10$
3 options to buy sim cards in Vietnam
At the airport
Sim card store at city center
Ask tour guide to buy for you
How to use free wifi in Vietnam
Free Wi-Fi is widely available in Vietnam, particularly in public places such as hotels, restaurants, and cafes. You can easily access the free Wi-Fi by asking the staff for the password, and enjoy a comfortable internet experience without using your 4G SIM card data. This can help you save your data for other uses.
Read more: 16 Things To Know Before Travelling To Vietnam
Data roaming
Obtaining 4G data SIM cards or accessing free public Wi-Fi in Vietnam is relatively easy. However, if you are unable to purchase either of these options and must rely on international data roaming to access the internet, be aware that it can be a costly solution. Even basic activities such as browsing social media, looking up directions, or searching for information can incur high fees.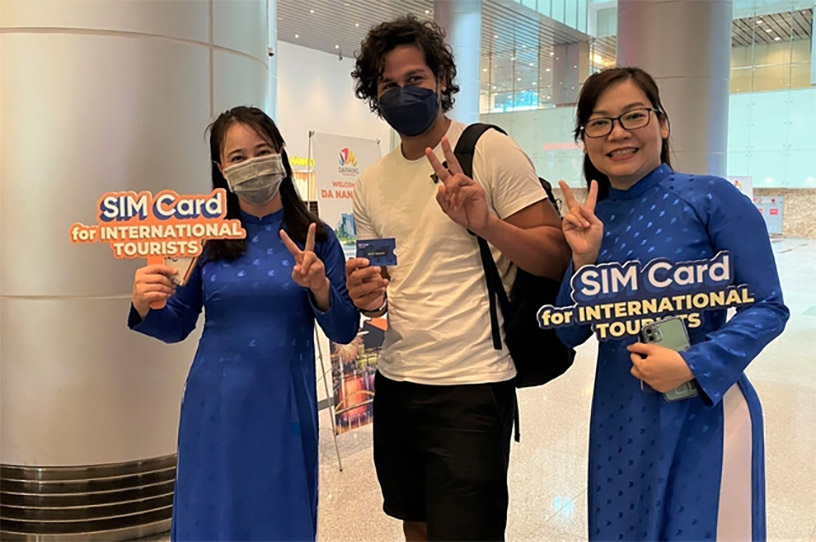 Some tips for using the internet while traveling in Vietnam
Using free Wi-Fi is recommended when: watching YouTube, making video calls, playing games…

Free Wi-Fi in Vietnam allows you to use bandwidth-intensive services such as streaming movies and making video calls to your loved ones. The internet speed is generally quite fast, and you don't need to worry about using up your data allowance.

Using 4G is recommended when: Surf the web, chat, social networks, google maps…

When using 4G internet in Vietnam, it is recommended to use only light, low-bandwidth applications such as checking news, chatting with friends, uploading photos to social media, or navigating with Google Maps. This will help you save your data allowance and avoid incurring additional charges.
Read more: The Basic Tipping Amount in Vietnam
Conclusion
As a traveler, staying connected to the internet is essential to access useful information, communicate with loved ones, and share experiences on social media. Fortunately, Vietnam offers many options to access the internet, including free Wi-Fi in public places and purchasing affordable 4G data sim cards.
It's essential to research and compare different packages to choose the most suitable one based on your needs. Remember to use the internet wisely and avoid heavy bandwidth applications to save data and prevent unexpected charges. By following these tips, you can stay connected and enjoy your trip to Vietnam to the fullest.