Vietnam has a long-standing cuisine, each region has its own specialties. Vietnamese cuisine has a harmony combination of 5 flavors: salty, sweet, sour, spicy and hot. The following the 9 best dishes to eat in Vietnam, it appears not only in luxurious restaurants but also in every street in Vietnam.
Read more: Expenses for your Vietnam trip
Pho (Noodle soup)
Pho is a typical traditional dish in Vietnamese cuisine. Pho appears everywhere from street food stalls, popular restaurants, or in luxurious restaurants.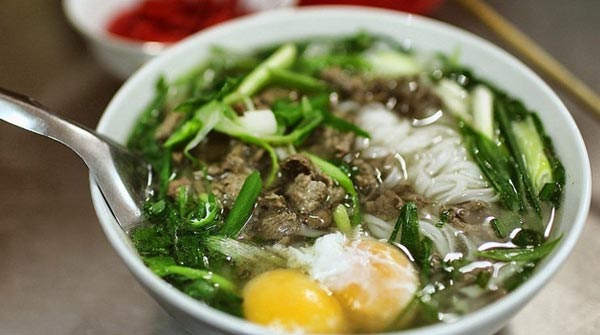 Any traveler asks "What should I eat when I come to Vietnam?". The answer is often Pho. Vietnamese pho has been voted by the CNN, BBC, Business Insider many times as the top best Asian dishes.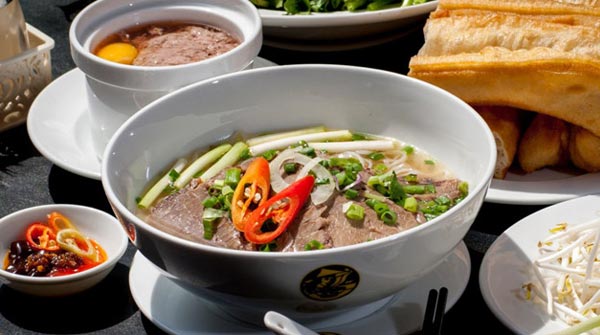 In Pho, the processing of broth, also known as soups is the most important stage. The broth of the traditional Pho is simmered from a cow's bone with some spices. However, each type of broth formula specific for Pho is kept quite secret.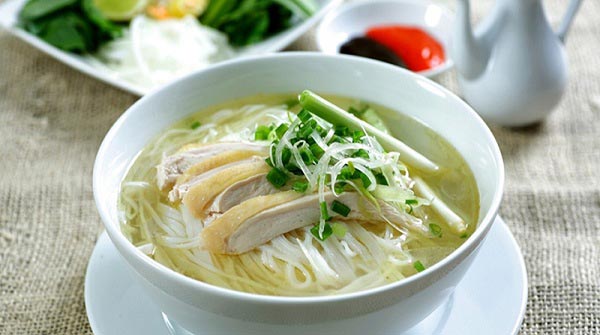 Read more: Hanoi city tours
Bun Cha
Bun cha is a simple and popular dish in Hanoi. Delicious Bun Cha depends on how to marinate and grill meat and how to mix dipping sauce. Sauce for Bun Cha consists of fish sauce, sugar, vinegar, garlic, chili, pepper…but not every restaurant makes it delicious.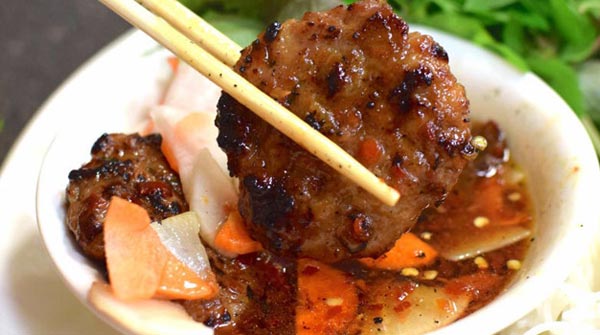 Bun Cha is one of CNN's top 10 delicious summer dishes, National Geographic's top 10 best street foods…and Bun Cha is also a dish that former President Obama and chef Anthony Bourdain enjoyed when they came to Vietnam.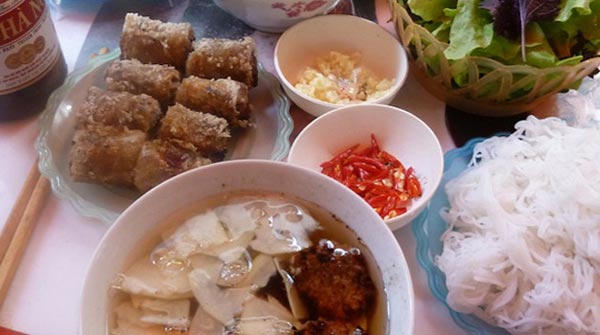 Banh Mi (Vietnamese bread)
Banh Mi is a popular dish with Vietnamese people. It is made from wheat flour and rice flour with hard crust. Vietnamese people can eat bread for breakfast, lunch, dinner or any time they like.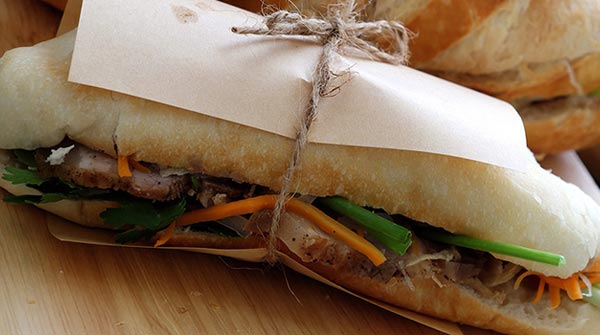 Although Banh Mi is a popular dish it has been praised by foreign newspapers such as The Guardian, National Geographic, BBC or Tripadvisor.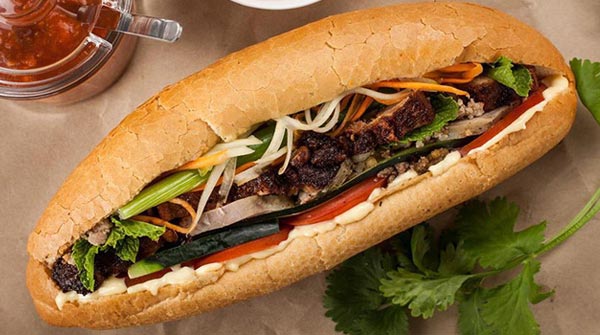 In 2016, Banh Mi Vietnam was in he list of the 20 best street food in the world voted by US travel site Fodor's Travel.
Roll Dishes
The roll dishes take ingredients from common foods: meat, fish, shrimp, eggs, raw vegetables, herbs… and use rice paper as a roll outside. They are served with a bowl of dipping sauce which sophisticatedly prepared.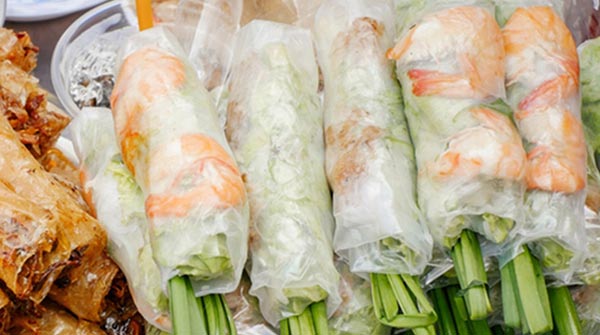 The dishes with different names, different ingredients, different processing methods but all have in common are: simple, easy to eat, strange and extremely attractive. People enjoy roll dishes to find the interesting discoveries of flavor combination.
Pho cuon (Rolled Pho)
Pho Cuon is one of the proud culinary features of Hanoi. Simple, easy to do, beautiful, Pho Cuon represents the creativity, the subtlety of local people.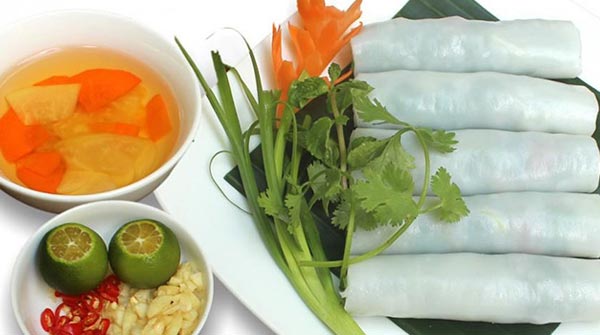 Mi Quang (Quang noodles)
Quang noodles are a specialty in Quang Nam province and Hoian town. Its ingredients include noodles, peanuts, rice paper, roast pork and turmeric-colored broth.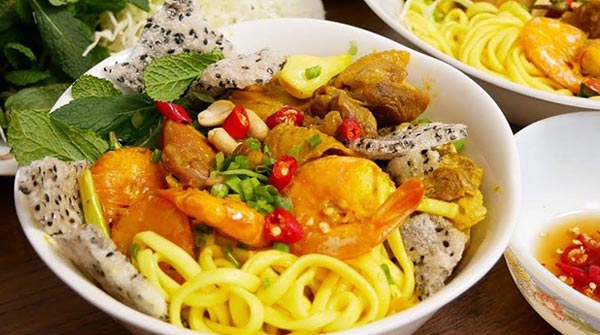 Quang noodles is one of the 12 Vietnamese dishes that are recognized as Asian culinary values. It is aloso suggested by Rough Guides as one of the 10 dishes that must be tried when coming to Vietnam.
Banh Xeo (Vietnamese pancake)
Banh Xeo is a famous dish of people in the Central and the South. A simple cake with rice flour, shrimp, pork … served with raw vegetables and dipping sauce.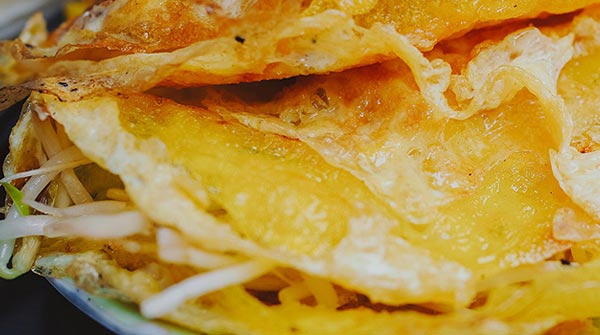 It is attractive by the taste and how to enjoy it. You have to wrap the piece of rice paper with raw vegetables and dip in sweet and sour sauce.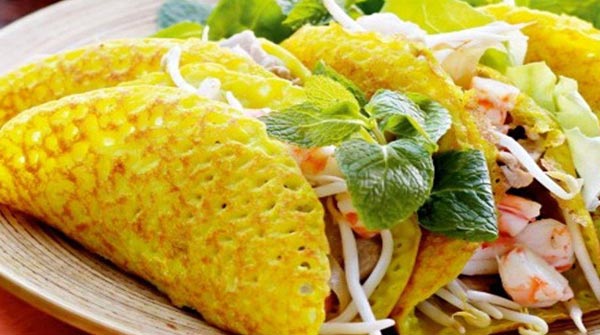 La Vong grilled fish
Grilled fish is attracted by sophisticated processing and interesting taste. The ingredients for making La Vong grilled fish are usually fresh hemibagrus. This type of fish is low in bone, sweet and aromatic.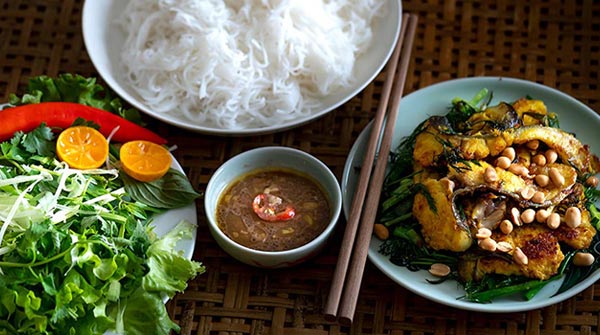 Fish are grilled and served with herbs and fresh onions, vermicelli and roasted peanuts, shrimp paste. The dishes in Vietnam often have lots of vegetables, spices and side dishes, creating a unique delicious taste.
Cao Lau
Cao Lau has bold flavors of the sophisticated cuisine in Centre Vietnam, the pride of Hoi An cuisine. It is a combination of golden noodles, served with shrimp, pork and raw vegetables, and a tasty broth. This dish is also voted in the top of delicious Asian dishes.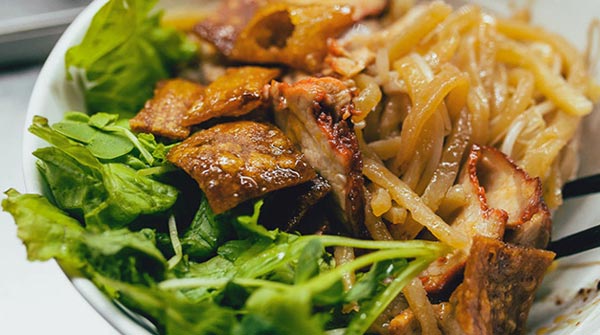 Bun Bo Hue (Hue beef noodle)
Hue beef noodle soup is a specialty of Hue cuisine but you can find Bun Bo Hue restaurants anywhere in Vietnam. Although it is called beef noodle but besides beef, there is also pork. The main ingredients to cook beef noodles are beef, pork, sprout, and boiled pig blood to create a characteristic red color for broth.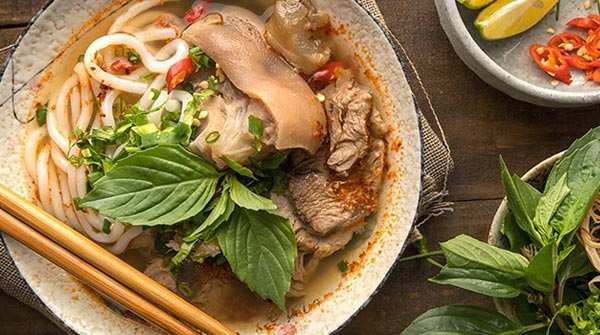 A famous American chef, Anthony Bourdain had to say that "Hue beef noodle soup is the best soup in the world I have ever enjoyed".
Conclusion
In addition to exploring tourist attractions and immersing oneself in the local culture, indulging in the native cuisine is equally vital during any trip to Vietnam. While we have highlighted the top 9 must-try dishes, there are still numerous culinary delights that await your discovery within the Vietnamese cuisine. If you are looking for a Vietnam tour, please refer to our Vietnam tour packages.