Hanoi is an attractive tourist destination with a combination of culture, history, and national heritage. With over 1,000 years of development history, Hanoi has now become a modern city, but it still retains its traditional values and inherent beauty. In this article, let's explore in detail about Hanoi, the best time to visit, and the places to visit in Hanoi.
Overview of Hanoi
Hanoi is located in northern Vietnam and is the capital city with a history spanning over 1,000 years. It is the largest cultural and political center in Vietnam, housing most of the government offices. With its long history, the ancient streets of Hanoi are regularly preserved and maintained, and UNESCO-recognized landmarks and cultural sites have made Hanoi an enticing destination for international tourists.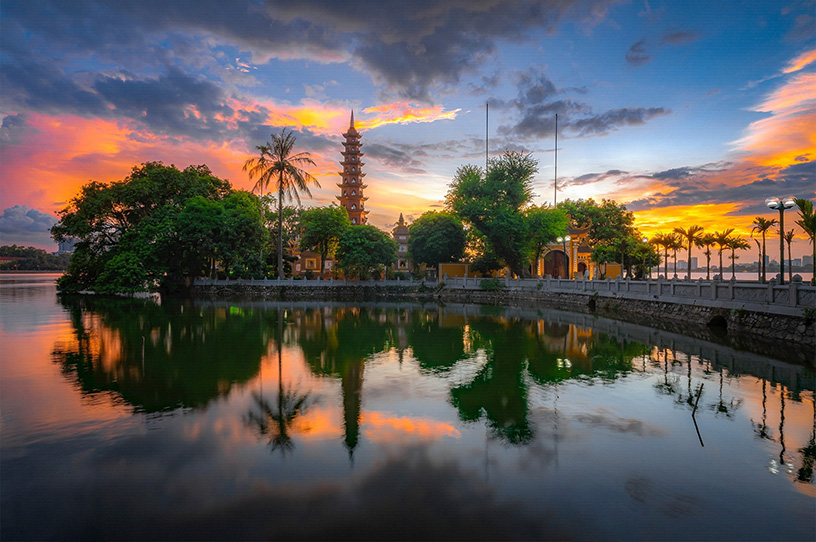 When visiting Hanoi, you cannot miss exploring the Old Quarter and visiting famous landmarks such as Hoan Kiem Lake, the Temple of Literature, the Imperial Citadel of Thang Long, and Hoa Lo Prison. Enjoy various traditional folk arts such as water puppetry and "cheo" singing. And, of course, savor the exquisite cuisine of Hanoi, including renowned dishes like Pho, Banh Mi, Bun Cha (Kebab rice noodles),….
Best Time to Visit Hanoi
In Hanoi, you can experience distinct seasons throughout the year: Spring, Summer, Autumn, and Winter.
Spring in Hanoi: It starts from February to April, with an average temperature ranging from 15-25 degrees Celsius.
Summer in Hanoi: It begins from May to July with hot and humid weather, and temperatures during summer commonly range from 30-40 degrees Celsius.
Autumn in Hanoi: It starts from August to October, and during this time, the climate is pleasant with temperatures around 25-30 degrees Celsius.
Winter in Hanoi: It begins from November to January, and during this period, Hanoi gradually becomes colder, with the lowest temperatures around 10 degrees Celsius.
Therefore, the ideal weather in Hanoi is during spring and autumn, with temperatures ranging from 15 to 30 degrees Celsius. The best time for you to visit Hanoi would be from September to March of the following year.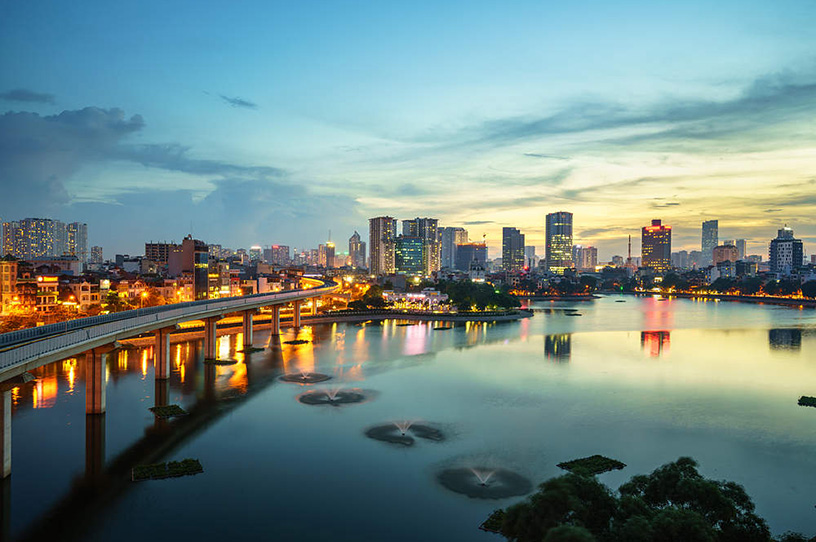 Read more: Best Time To Visit Vietnam
Transportation to Hanoi
Hanoi, being the capital of Vietnam, has a well-developed transportation infrastructure. To reach Hanoi, you can travel by air to Noi Bai International Airport, by train to Hanoi Railway Station located on Le Duan Street (near the city center), or by car via highways connecting to other cities.
By Plane
Domestic and international flights to Hanoi land at Noi Bai International Airport, which is approximately 30 kilometers away from the city center. Some popular airlines in Vietnam include Vietjet Air, Vietnam Airlines, Jetstar Pacific, and Bamboo Airways.
By Train
Train journeys to and from Hanoi typically depart from and arrive at Hanoi Railway Station, situated on Le Duan Street, just about 2 kilometers from the city center. From this station, you can book tickets to various cities across Vietnam, with Sapa being one of the favorite destinations for travelers using the train from Hanoi.
Read more: How to travel from Hanoi to Sapa by train?
By Car
Currently, Vietnam's highway system is rapidly expanding, making cars a common choice for travelers when moving to nearby attractions within approximately 200 kilometers of Hanoi, such as Halong Bay, Cat Ba Island, Trang An in Ninh Binh, and more.
Best Places to Visit in Hanoi
Hoan Kiem Lake (Lake of the Restored Sword)
Hoan Kiem Lake, also known as Lake of the Restored Sword, can be considered an iconic symbol of Hanoi. It is situated right in the heart of the city, with a historic turtle tower located on a small peninsula within the lake. Next to Hoan Kiem Lake, you'll find impressive architectural landmarks and valuable cultural heritage sites of Hanoi, such as the Pen Tower, The Huc Bridge, and Ngoc Son Temple.
The streets surrounding Hoan Kiem Lake become a pedestrian zone on weekends, and it's a common place for free street performances and artistic shows for everyone to enjoy.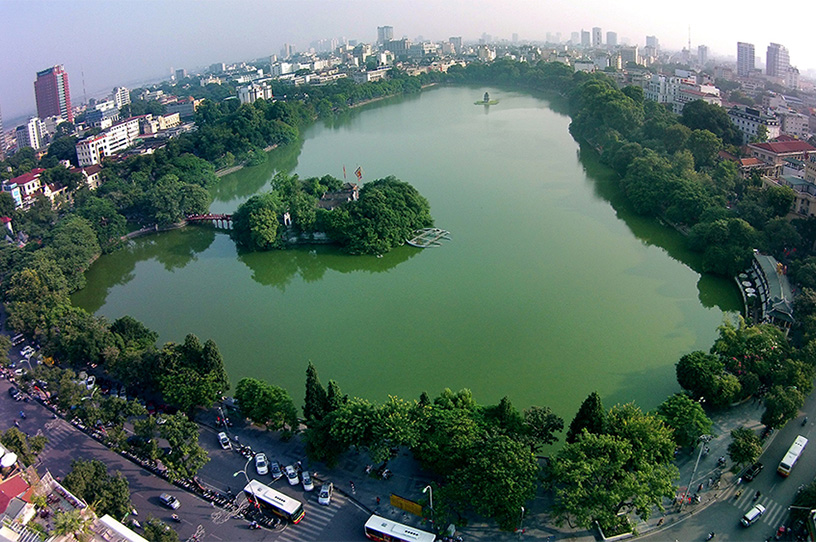 Ngoc Son Temple
Ngoc Son Temple is a renowned spiritual and cultural symbol in the capital city of Hanoi. It is located in the northeastern part on Ngoc Island within Hoan Kiem Lake, combined with the Turtle Tower in the south. This creates a prominent complex of cultural and historical relics amid the serene natural scenery. In 2013, Ngoc Son Temple was recognized as a special national heritage site. It is a captivating attraction for both local and international tourists when visiting Hanoi.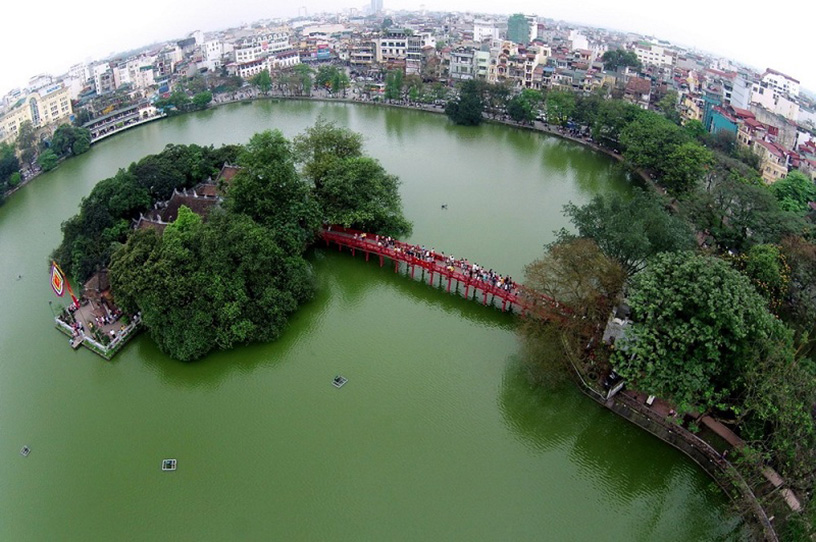 Temple of Literature (Van Mieu – Quoc Tu Giam)
The Temple of Literature, also known as Van Mieu – Quoc Tu Giam, is considered Vietnam's first university, established in 1070 during the reign of King Ly Thanh Tong. In 1076, King Ly Nhan Tong officially established the Quoc Tu Giam, which became the Temple of Literature. This is a famous historical site in Hanoi, preserving the cultural and educational essence of various feudal periods and maintaining the traditional values of Vietnam. The site also houses numerous artifacts and precious documents, notably the 82 stelae recognizing doctoral laureates, which have been recognized by UNESCO as "World Documentary Heritage."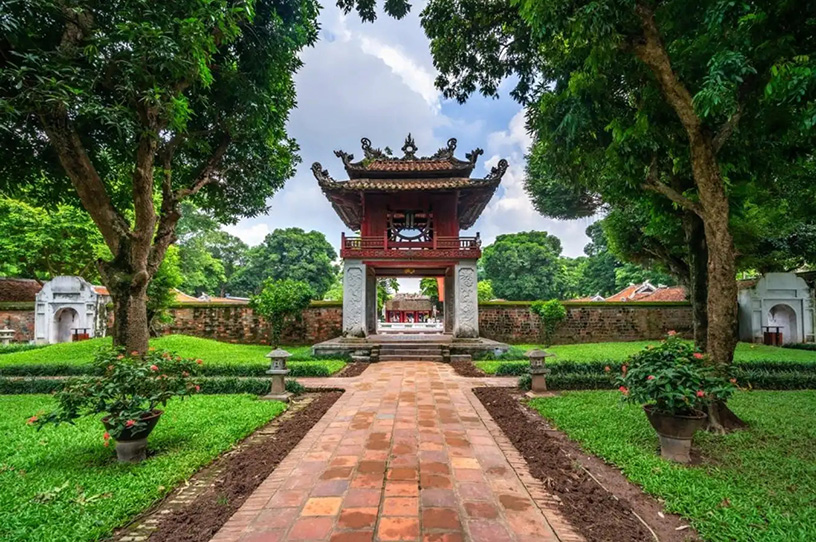 Ho Chi Minh Mausoleum
The Ho Chi Minh Mausoleum is the final resting place of President Ho Chi Minh, a great leader of the Vietnamese people. The mausoleum is open to the public five days a week, in the mornings on Tuesday, Wednesday, Thursday, Saturday, and Sunday. Visitors are required to dress modestly, not bring electronic recording devices, and maintain proper decorum while touring the mausoleum.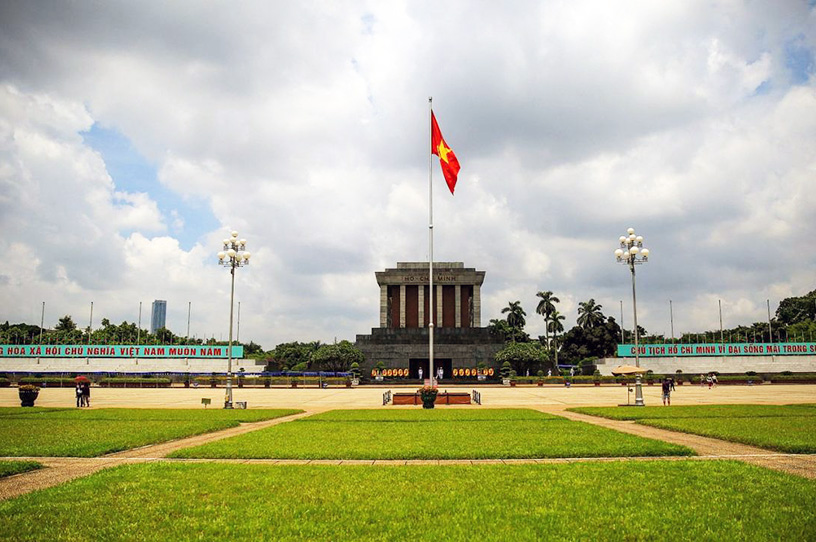 One Pillar Pagoda (Chua Mot Cot)
The One Pillar Pagoda was constructed in 1049 during the reign of King Ly Thai Tong. It is not only regarded as one of the most unique architectural marvels in Vietnam and Asia but also a spiritual destination and a symbol of Hanoi's thousand-year-old culture.
Hanoi Old Quarter
Hanoi Old Quarter is located in the heart of Hanoi and comprises 36 streets, each with its unique charm, featuring houses dating back to the 19th century that have been preserved and conserved to this day. International tourists visiting Hanoi often choose to stay in hotels within this area for convenience. Within the Old Quarter, you can easily find souvenirs, handicrafts, and savor the cuisine of Hanoi. Moreover, this area is home to night markets and pubs, making it very convenient for tourists.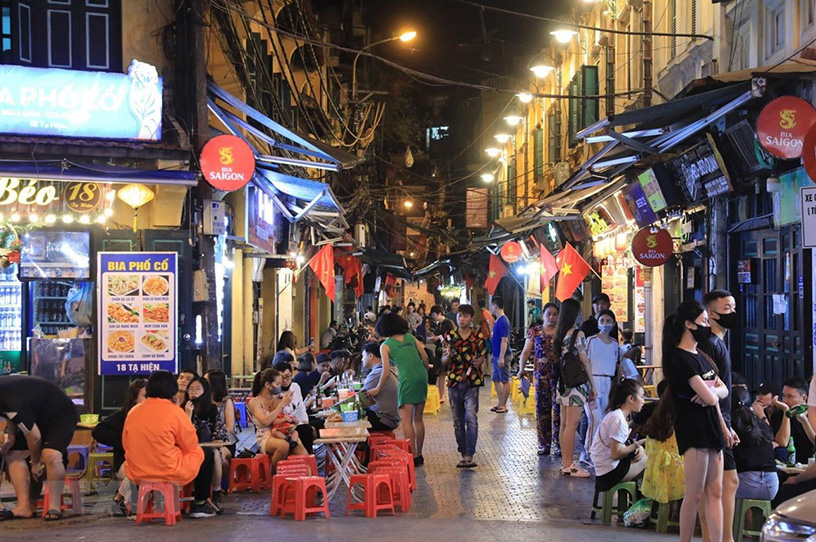 Hoa Lo Prison
Hoa Lo Prison was built by the French colonialists in 1896 to incarcerate thousands of Vietnamese revolutionaries. Today, it stands as one of Hanoi's famous historical relics, preserving evidence of the wartime and the hardships endured by countless Vietnamese patriots during the struggle for independence from French colonial rule.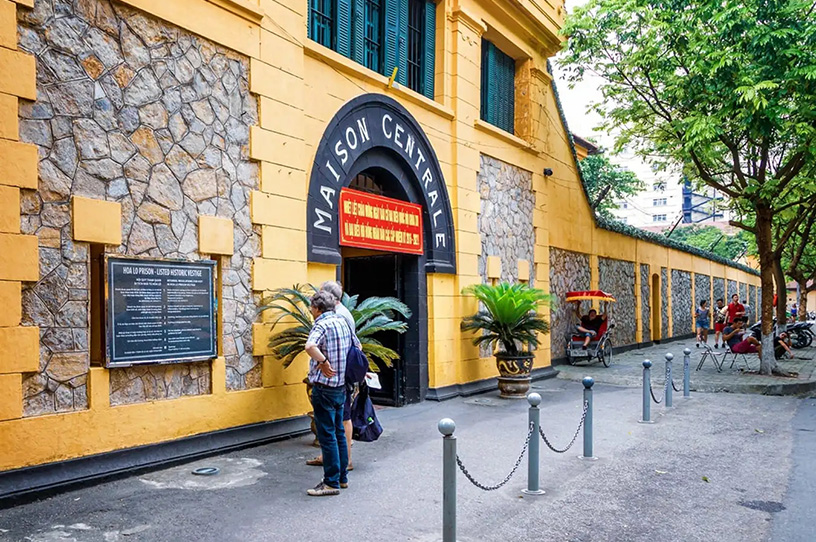 Hanoi Opera House
Hanoi Opera House was constructed by the French in 1901 during their colonial rule of Vietnam. After the French withdrawal, the Vietnamese government continued to preserve and develop the Hanoi Opera House according to its original purpose. The Hanoi Opera House is an attractive cultural exchange venue, hosting large-scale artistic events and concerts featuring renowned artists.
Located not far from Hoan Kiem Lake, approximately 500 meters away, you can easily walk there to capture beautiful photos.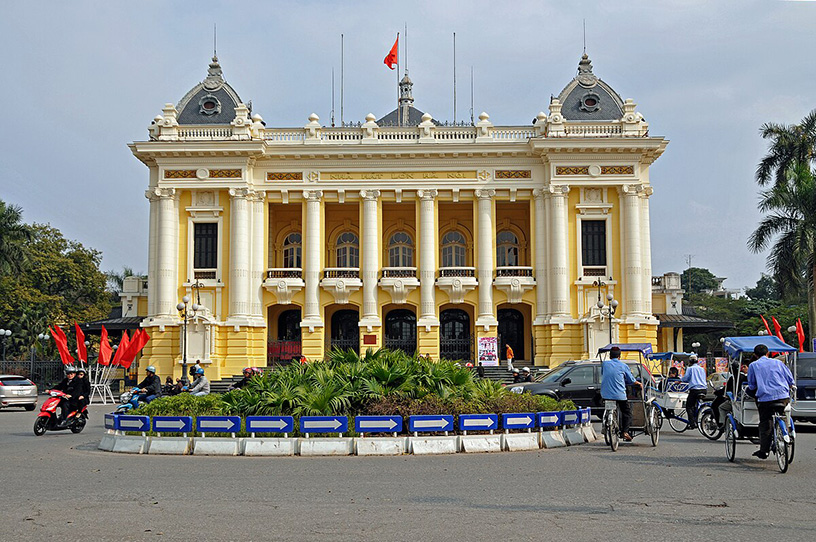 Read more: Ho Guom Opera House in Hanoi, Vietnam
St. Joseph's Cathedral, Hanoi
St. Joseph's Cathedral was built in 1884 and completed in 1887 by the French colonialists during their occupation of Vietnam. The cathedral is designed in a neo-Gothic architectural style, resembling Notre-Dame Cathedral in Paris but with a fusion of Eastern and Christian influences, reflecting a part of Vietnamese culture and Buddhism.
Today, St. Joseph's Cathedral serves as a place of worship for Catholics and is a favorite destination for young people due to its central location in Hanoi. It attracts many tourists for sightseeing every day.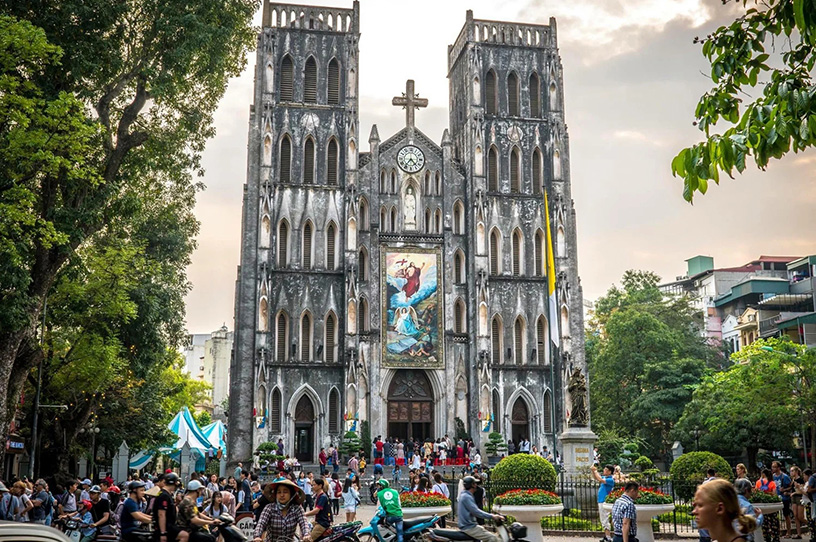 Thang Long Water Puppet Theater
Thang Long Water Puppet Theater was established in 1969 under the name Kim Dong Puppetry Troupe, with the initial mission of performing water puppetry for Hanoi's children. Over nearly half a century of formation and development, the theater has become Vietnam's leading water puppetry art brand and holds the record in Asia as the "Only Theater in Asia Performing Water Puppetry 365 Days a Year." The theater has successfully toured more than 40 countries, leaving a mark on audiences worldwide, from Asia to Europe, America, and Australia.
Situated in the central area of Hanoi, you can easily explore many famous Hanoi landmarks from here, such as Ngoc Son Temple, Ly Thai To Park, and the Hanoi Opera House. Thang Long Water Puppet Theater has warmly welcomed numerous international visitors who come to enjoy the unique art of water puppetry, a form of art unique to Vietnam.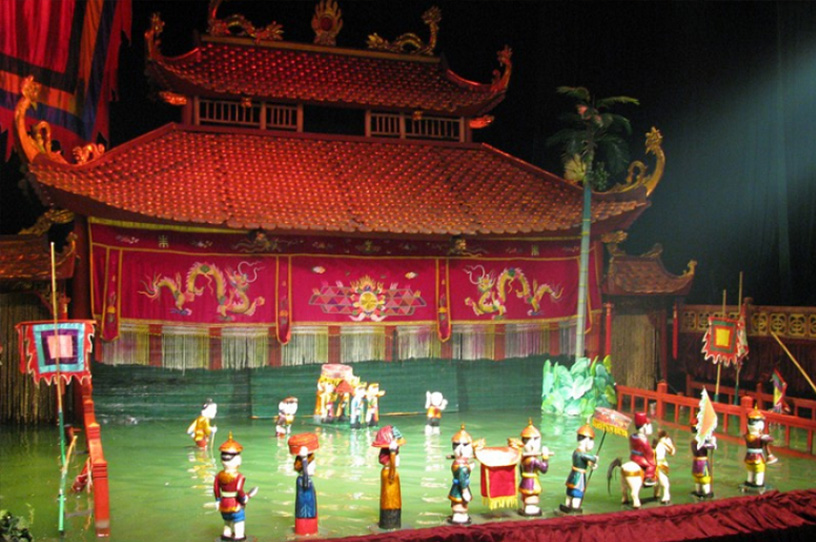 Imperial Citadel of Thang Long
The Imperial Citadel of Thang Long in Hanoi is a complex of historical relics associated with different periods in Vietnam's history. It is a massive architectural structure built over many feudal dynasties and is now a fascinating tourist attraction in Hanoi. On July 31, 2010, the Thang Long Imperial Citadel was recognized by UNESCO as a World Cultural Heritage site.
Together with the Van Mieu – Quoc Tu Giam (Temple of Literature), Ho Chi Minh Mausoleum, and One Pillar Pagoda, the Thang Long Imperial Citadel has become one of the oldest and most enduring landmarks in Hanoi, closely linked to countless dynasties and historical events throughout its history.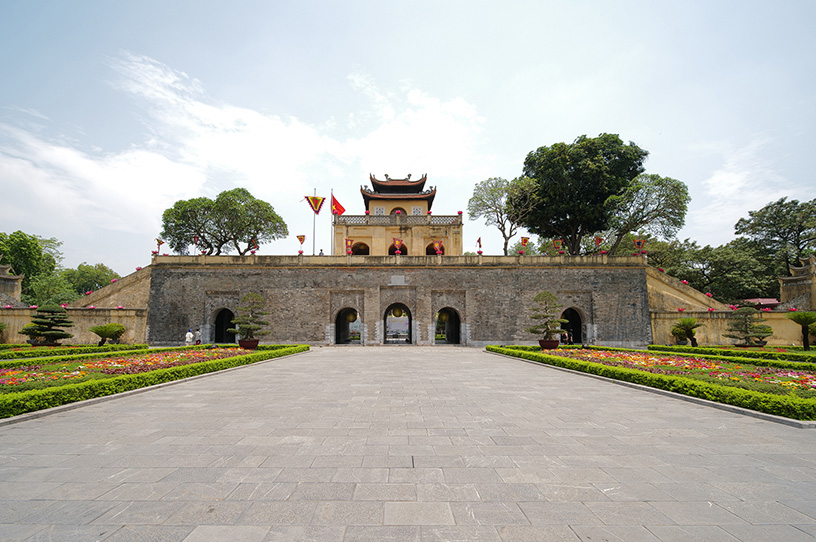 Hanoi Night Market
Hanoi Old Quarter Night Market stretches for about 3 kilometers, covering three main streets: Hang Dao Street, Hang Ngang Street, and Hang Duong Street. The night market operates from 6:00 PM to 11:00 PM every Friday, Saturday, and Sunday. Inside the Hanoi Night Market, you'll find numerous stalls selling various products, including household items, clothing, jewelry, handicrafts, souvenirs, and more, all at very affordable prices. You can also indulge in Hanoi cuisine at the food stalls in the market.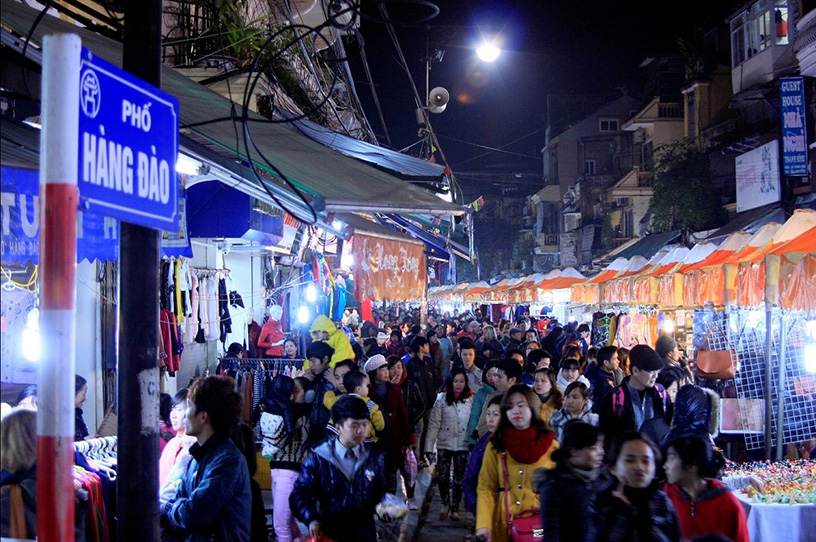 Tran Quoc Pagoda
Tran Quoc Pagoda is one of the most famous pagodas in Hanoi. Located on a small island in the eastern part of West Lake, Hanoi's largest freshwater lake, the pagoda offers a picturesque setting. This pagoda has been in existence for nearly 1500 years and has undergone several renovations and maintenance efforts. With its historical and architectural significance, Tran Quoc Pagoda attracts both Buddhist pilgrims and tourists from within and outside Vietnam.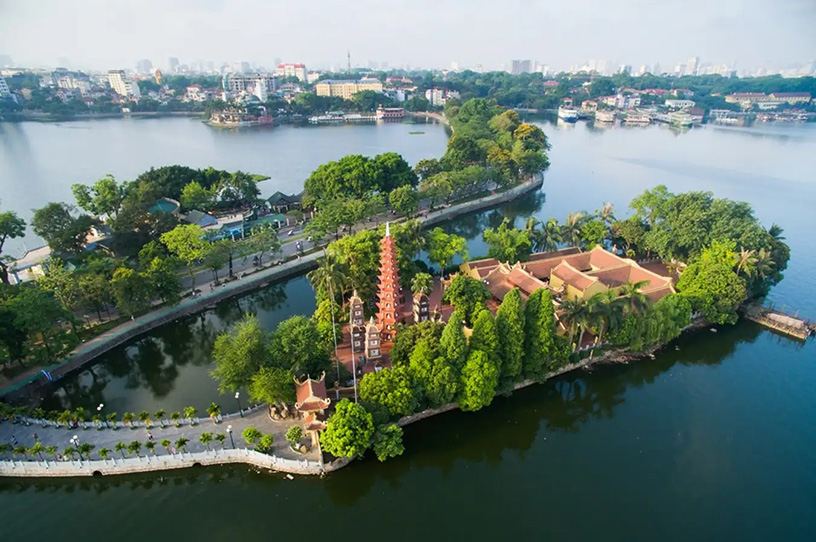 Bat Trang Ceramic Village
Bat Trang Ceramic Village is situated about 15 kilometers from central Hanoi. With over 500 years of history, the village is renowned for its traditional ceramic craftsmanship, making it an integral part of Hanoi's cultural heritage.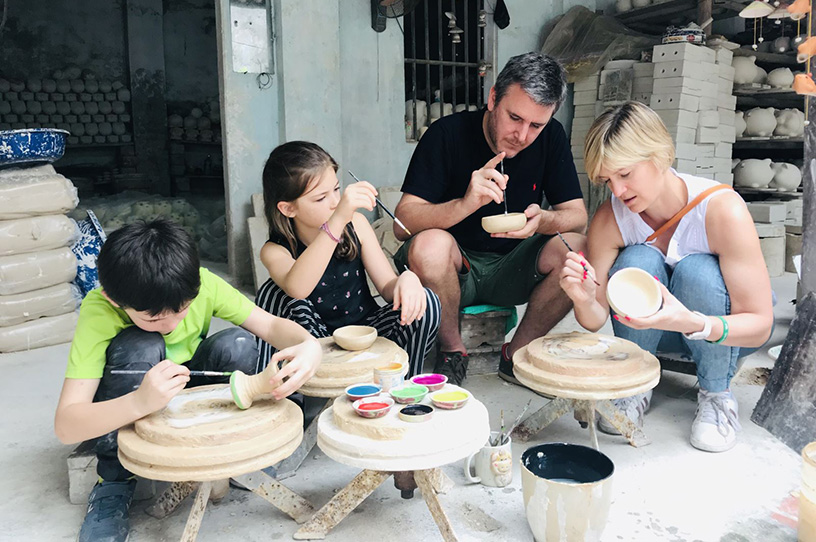 Bat Trang specializes in producing a wide variety of ceramic and porcelain products in terms of types and designs. What's most interesting about visiting Bat Trang is that you can directly witness artisans creating exquisite ceramic products and even try your hand at crafting your own pieces. The ceramic products from Bat Trang are known for their beauty and high quality, including dishes, bowls, cups, vases, and souvenirs. They are not only widely consumed in the domestic market but also exported to many countries worldwide.
Bat Trang Ceramic Museum is a must-visit when you come to Bat Trang. The museum boasts distinctive architecture, and to enter, you'll need to purchase a ticket. Inside, you'll find a vast collection of unique ceramic products, raw materials, and the ceramic-making process. If you wish to own some beautiful ceramic artwork, you can visit the shops on the museum's first floor.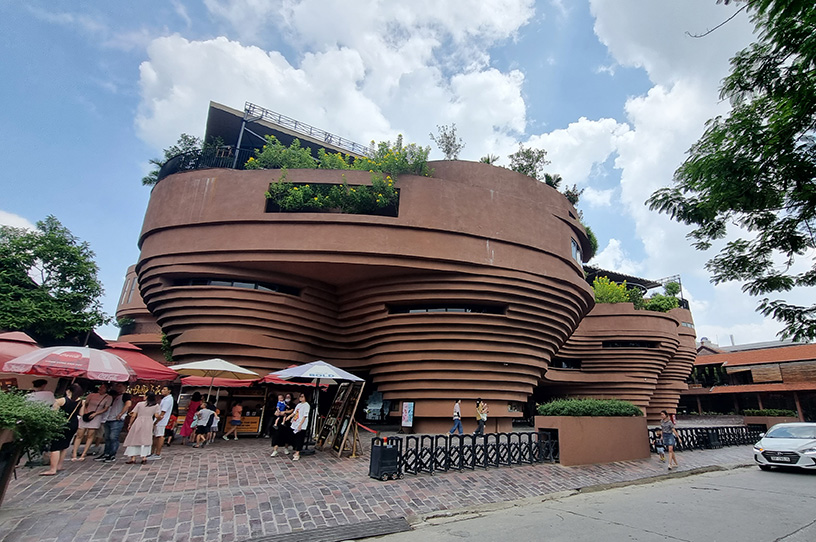 Duong Lam Ancient Village
Duong Lam Ancient Village is approximately 40 kilometers from central Hanoi. This village has preserved traditional cultural elements and unique architectural styles, representing the serene countryside of Vietnam. The village is known for its ancient gate, banyan tree, communal house, and pagoda.
Before entering Duong Lam Ancient Village, you will pass through the Mong Phu village gate. Next to the gate is a banyan tree that is over 300 years old, a popular spot for tourists to take commemorative photos when visiting Duong Lam.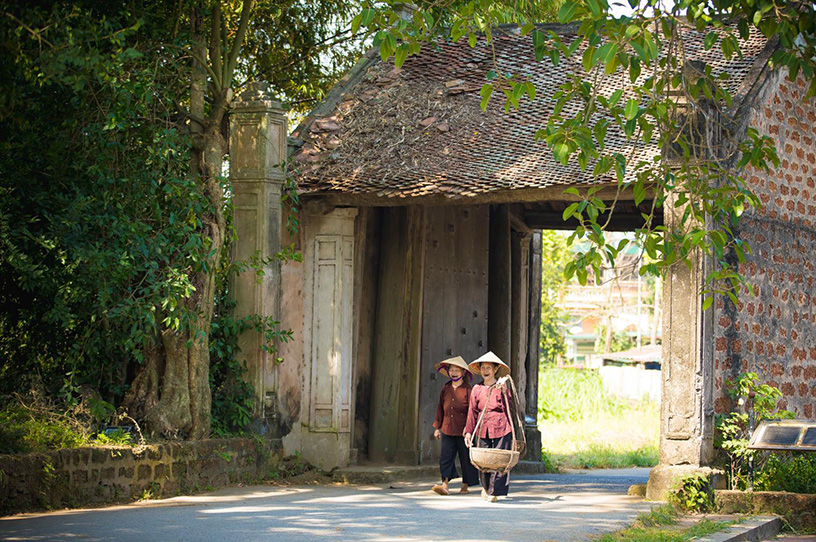 Van Phuc Silk Village
Van Phuc Silk Village in Ha Dong, with a history spanning over 1000 years, is one of the most famous silk-producing villages in Vietnam. Located just over 10 kilometers from central Hanoi, Van Phuc Village is home to nearly 800 households engaged in traditional silk weaving. The primary material for Van Phuc silk is silk thread, prized for its softness and durability. To create perfect silk products, artisans go through various meticulous stages, even closely monitoring machine-assisted processes.
The silk products from Van Phuc are highly regarded for their beauty and quality. They come in various styles and patterns. The patterns are diverse, symmetrically decorated, and beautifully detailed, offering a sense of openness and precision. When you visit this area, be sure to purchase some silk products as souvenirs for your loved ones.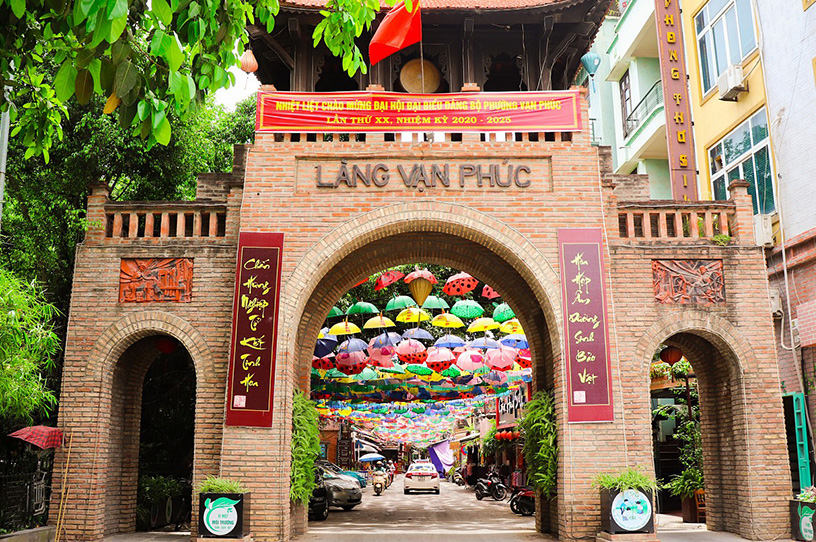 West Lake Hanoi
West Lake is a natural freshwater lake located in the northwest of Hanoi's city center, covering an area of approximately 500 hectares, with a nearly 20-kilometer-long road around the lake, perfect for cycling. West Lake is not only a cultural and natural symbol of Hanoi but also a popular tourist destination offering various activities such as swan boat rides, water sports, a water park, visits to ancient villages, and culinary exploration.
Surrounding West Lake are ancient villages such as Nhat Tan Flower Village, Quang Ba Flower Village, Nghi Tam Kumquat Village, Yen Thai Paper Village, and Ngu Xa Bronze Casting Village. The area also features historical and cultural relics like Van Nien Pagoda, Tao Sach Pagoda, Kim Lien Pagoda, Quan Thanh Temple, and Ba Danh Temple. Notably, on the peninsula and island on the eastern side of West Lake, two famous sites, Tay Ho Palace (constructed around the 17th century in honor of the Lady of the Forest) and Tran Quoc Pagoda (built during the Early Ly Dynasty in the 6th century), remain well-preserved and attract a large number of domestic and international visitors.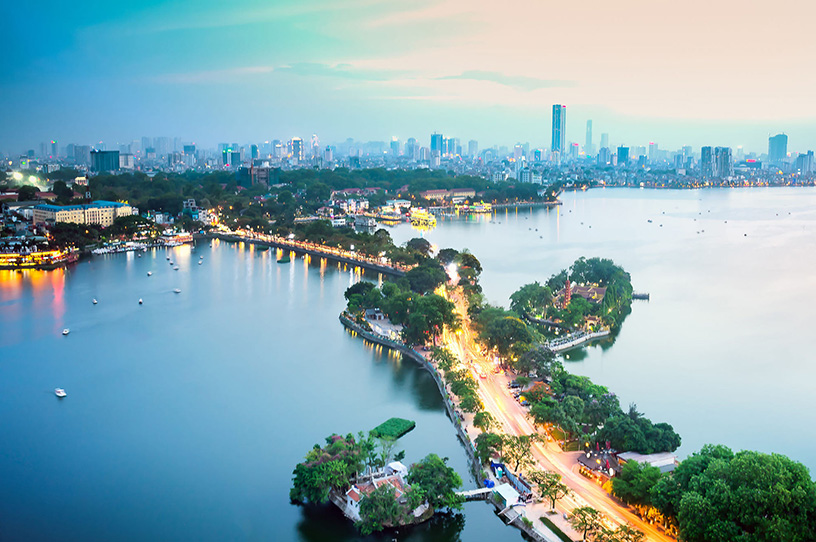 Read more: 15 Top Tourist Attractions in Hanoi
Museums in Hanoi
A must-visit in any city is its museums and historical landmarks. One of the most beloved places by international travelers is the Vietnam Museum of Ethnology. Following that, you can explore the Vietnam Women's Museum, the Fine Arts Museum, the Hanoi Museum, the National Museum of History, or the Hoa Lo Prison Museum, along with the historical site of the Hanoi Flag Tower, to delve into the culture and history of the city.
Read more: Top 8 Museums in Hanoi You Should Visit
Hanoi Cuisine
Hanoi is one of the fantastic destinations for enjoying Vietnamese cuisine, and most of the famous dishes in Hanoi, such as Pho, Banh Mi, Bun Cha, Spring Rolls, are all popular everyday dishes used by the locals.
What makes Hanoi special is the opportunity to savor Pho and Bun Cha. These two dishes carry the distinctive characteristics of Hanoi, and while other cities may have them, they are often not as delicious.
Read more: Top 7 Delicious Beef Pho Restaurants Near Hanoi's Old Quarter
Enjoying Coffee in Hanoi
One of the most popular beverages in Hanoi is coffee, and enjoying coffee is a daily habit for many Hanoi residents. You can find coffee shops throughout the streets of Hanoi, and one of the favorite ways to enjoy coffee here is sitting right on the sidewalk next to the pedestrian walkway, where you can also people-watch as you sip your coffee.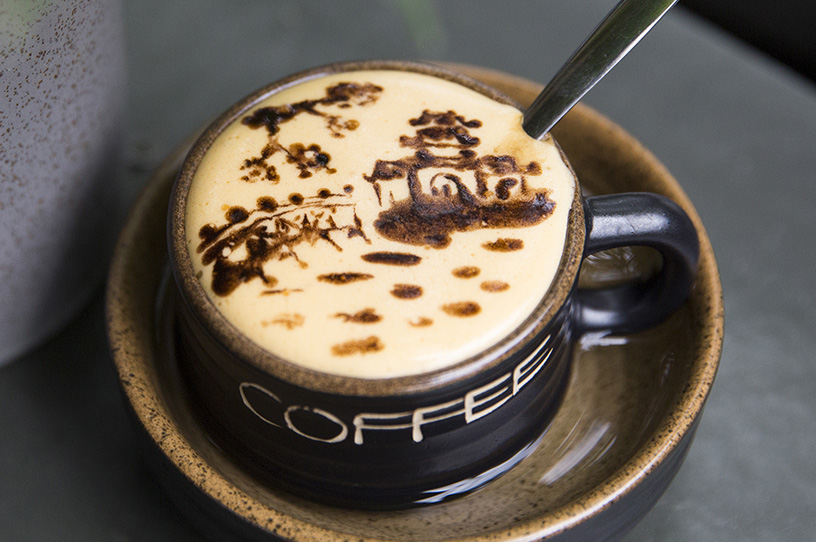 Read more: 10 Egg Coffee Shops in Hanoi You Should Try
Choosing Good Hotels in Hanoi
It's not difficult to find a good hotel in Hanoi as the hotel options here are quite diverse, ranging from budget to luxury. However, if you're staying in the Old Quarter area, it's best to choose hotels in the 3 to 5-star range with prices ranging from $30 to $200 USD for a better experience. We recommend selecting hotels located in the city center, close to the Old Quarter, where you can easily walk to famous attractions in Hanoi, such as Hoan Kiem Lake, the Old Quarter, and the Night Market.
Read more: Top 10 Best 3 Star Hotels in Hanoi Old Quarter
Read more: Top 14 Best 4 Star Hotels in Hanoi Old Quarter
Some Tips for Visiting Hanoi
Choosing clothing when traveling to Hanoi
Depending on the time of year you visit Hanoi, if you come here in the summer or autumn, T-shirts, shorts, and sneakers are the top choices. If you visit Hanoi in the winter or spring, having a thin scarf and a jacket is essential.
Be cautious when taking taxis on the road
There have been cases where foreign tourists were overcharged after using taxi services in Hanoi. To avoid being cheated, you should choose reputable taxi companies like Taxi XANH SM, Taxi group, Taxi Thanh Nga, Taxi G7, or use the Grab app if you have an account. If you don't know how to book a ride, you can ask the hotel reception or local residents for help.
Haggling when shopping
When shopping at places other than supermarkets, you should haggle and aim for about a 30% discount from the initial price the seller gives you, and then adjust it a bit if necessary.
Conclusion
With its rich cultural traditions, glorious history, unique cuisine, and numerous famous attractions that we have just introduced, Hanoi is undoubtedly a fantastic destination you shouldn't miss when visiting Vietnam. If you're interested in touring Hanoi, please let us know, and you can receive free advice from our travel experts.