Quy Nhon is the most beautiful coastal city in the South Central region of Vietnam, with a coastline stretching over 40 kilometers, numerous beautiful beaches, and the presence of small islands and surrounding mountains. This combination is increasingly attracting a large number of tourists every year.

Quy Nhon not only boasts beautiful beaches and picturesque islands but also offers numerous culturally significant historical sites and captivating tourist attractions. Join us in exploring the coastal city of Quy Nhon and places to visit.
Overview of Quy Nhon
Quy Nhon is a coastal city located in Binh Dinh Province, a province in the South Central region of Vietnam. It boasts a curved coastline that embraces the city, combined with majestic mountains and forests, making it an outstanding destination for leisure tourism.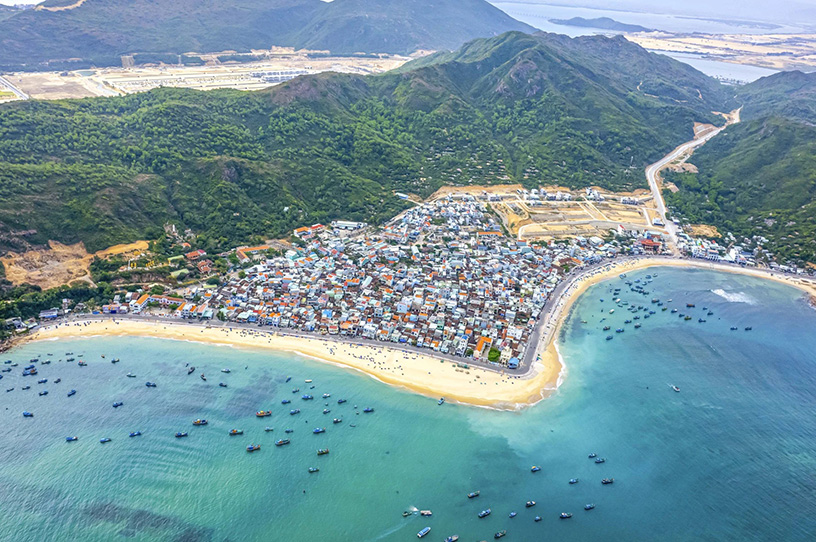 Quy Nhon is not a large city in Vietnam, so it lacks the hustle and bustle of urban life. Life here is relatively peaceful, the people are friendly, and it's very suitable for beach vacations. A convenient aspect for tourism development is the transportation infrastructure in Quy Nhon, with a well-developed system of railways, roads, and an airport connecting to major tourist destinations in Vietnam.
Best Time to Visit Quy Nhon
The climate in Quy Nhon typically divides the year into two seasons: the rainy season and the dry season. The rainy season usually runs from October to December, giving way to the cooler dry season from January to April, followed by hot and sunny weather from May to September.
The peak tourist season for domestic travelers is from May to August when the weather is hot and crowded. Therefore, for international tourists, the best time to visit Quy Nhon is from January to April each year when the climate is pleasant, and tourist attractions are not overly crowded, resulting in better service quality.
Read more: Best Time To Visit Vietnam
Transportation to Quy Nhon
To get to Quy Nhon, you can choose from three common types of transportation:
By Plane
Air travel is the best option for travelers who want to reach Quy Nhon quickly and save time. Phu Cat Airport is located approximately 30km from the city of Quy Nhon. You can fly to Quy Nhon from Hanoi, Ho Chi Minh City, Da Nang, and a few other places in just over 1 hour. Currently, Vietnamese airlines like Vietnam Airlines, Vietjet Air, and Bamboo Airways all operate daily flights to Quy Nhon.
By Train
Traveling by train to Quy Nhon offers its own unique charm and is suitable for those with more leisurely travel schedules or for shorter distances. Dieu Tri Train Station is located only about 15km from the city center of Quy Nhon and is connected to railway stations across Vietnam.
By Car
This option is only suitable if you are traveling from a location near Quy Nhon. It can be quite tiring if you're driving from Ho Chi Minh City, which is over 600km away.
Read more: Most Common Transportation in the Cities of Vietnam
Best Tourist Attractions in Quy Nhon
Ky Co – Eo Gio
Ky Co is one of the famous islands near Quy Nhon, located about 25 km from the city center. Many people compare it to the Maldives of Vietnam, with one side facing the sea and the other side bordered by mountains. The water here is crystal clear, and the fine white sand, combined with the golden sunlight, creates a stunning landscape. The primary means of reaching Ky Co Island is by canoe, starting from Eo Gio. It takes approximately 30 minutes to reach the island.
Not far from Ky Co is Eo Gio, a must-visit place in Quy Nhon, where a scenic walking path follows the mountain slopes, offering spectacular ocean views. The name "Eo Gio" comes from the geographical shape of the area, as when viewed from the rocky cliffs surrounding it, you'll see a small bay sheltered by two mountain ranges. This is an ideal check-in spot that attracts many young visitors, and as a result, tourism services here are rapidly developing.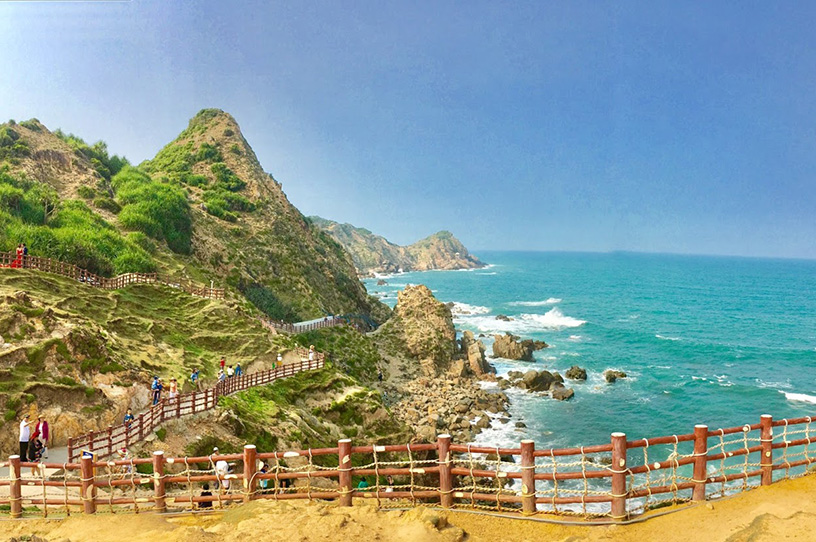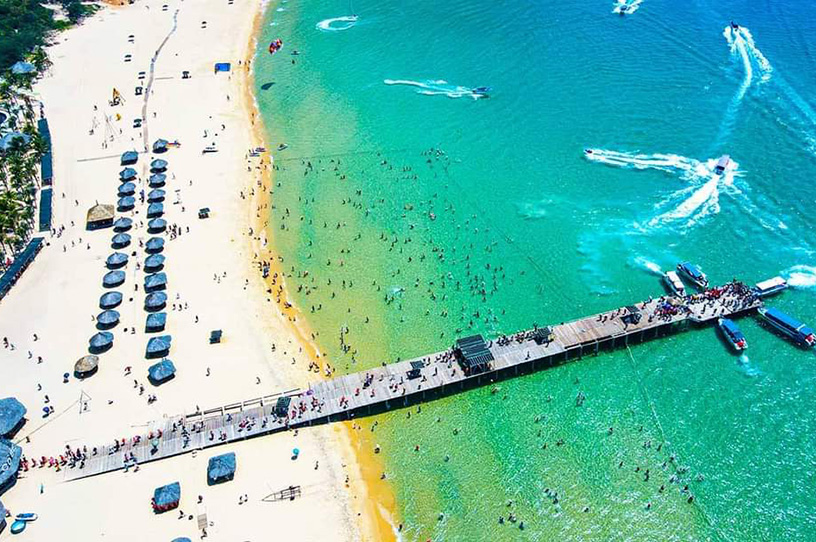 Ghenh Rang – Tien Sa
Ghenh Rang – Tien Sa is a well-known and easily accessible tourist area, located only about 3 km from the city center. It includes several beautiful attractions such as Ghenh Rang Rock Beach, Tien Sa Beach, Hoang Hau Beach, the Hàn Mặc Tử Tomb area, and the Ghenh Rang Church. From the top of Ghenh Rang, you'll have a panoramic view of Quy Nhon city and the Crescent Moon Beach.
Additionally, there are some exciting sports activities available here, such as snorkeling, kayaking, and Flyboarding. This is definitely a place to visit in Quy Nhon.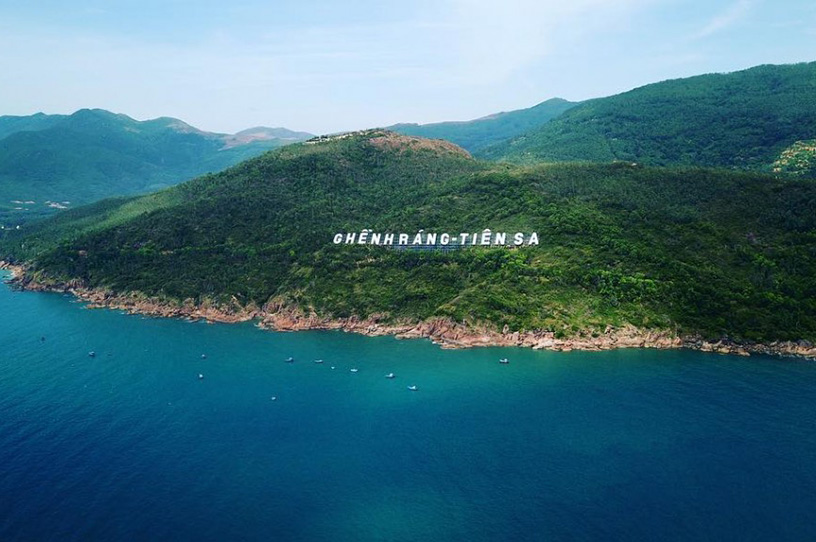 Hon Kho Island
Hon Kho Island is approximately 19 km from Quy Nhon city and is part of the group of 32 nearshore islands in Binh Dinh Province. It stands out for its pristine beauty, as it has not yet been extensively developed for tourism. You can find smooth white sandy beaches, vibrant coral reefs, and a stunning underwater path that emerges during low tide, offering breathtaking sights.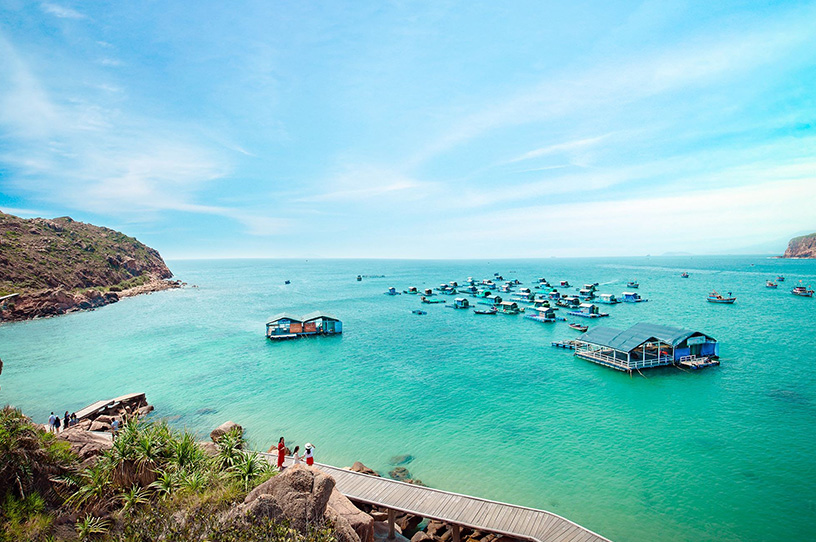 Phuong Mai Sand Dunes
Phuong Mai Sand Dunes are located next to Nhon Ly Beach, on the Phuong Mai Peninsula, about 20 km from Quy Nhon city center. The sand dunes cover a vast area with gentle, curving terrain, ranging from 20 to 30 meters in height, with some parts reaching up to 100 meters above sea level.
To avoid the scorching sun, it's advisable to visit Phuong Mai Sand Dunes in the early morning or late afternoon. Watching the sunrise or sunset from the sand dunes will be a memorable experience for you.
The Cham Towers
There are quite a few towers built in the unique architecture of the ChamPa people dating back to the 13th and 14th centuries that still stand intact in Quy Nhon. These moss-covered, ancient towers are interesting attractions for tourists visiting Quy Nhon. Some of the remarkable towers include:
Banh It Tower (Silver Tower)
Twin Tower (Hung Thanh Tower)
Binh Lam Tower
Canh Tien Tower (Bronze Tower)
Duong Long Towers (Nga Towers)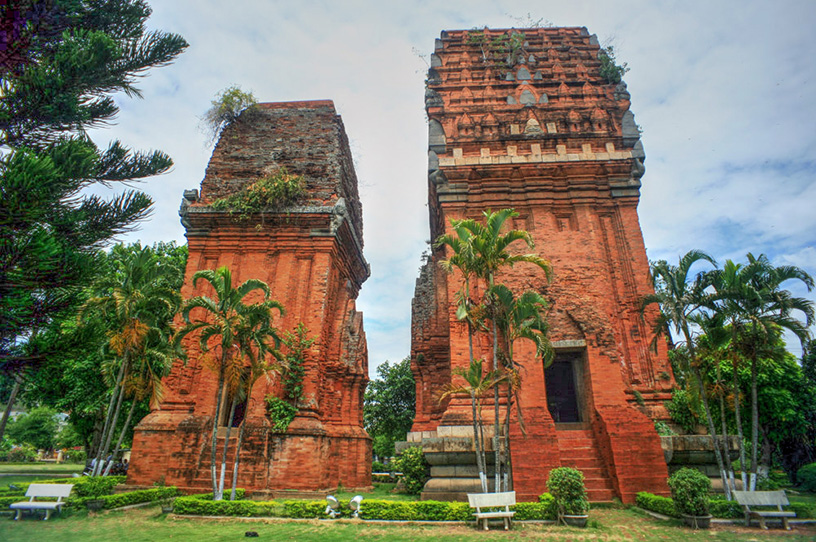 Famous Temples
Spiritual tourism is also one of Quy Nhon's tourism offerings, with several renowned temples that feature intricate architecture, such as:
Thien Hung Pagoda: Located about 20km from Quy Nhon city center, it is one of the most famous temples in the area, with a 12-story bell tower, traditional curved-roof houses resembling ancient palaces, a large pond, and lush greenery.
Long Phuoc Pagoda: Known as the cradle of traditional Vietnamese martial arts, it is located in Tan Thuan hamlet, Phuoc Thuan commune, Tuy Phuoc district. Surrounding the pagoda are lush green fields scented with fresh rice, while inside the temple, you can find gardens, bonsai trees, and many ancient architectural features. The pagoda is a gathering place for martial arts enthusiasts and martial arts clubs for training and competitions.
Ong Nui Pagoda: Located nearly 30 km from Quy Nhon city center, this pagoda is famous for having the largest seated Buddha statue in Southeast Asia.
Bai Xep Fishing Village
Bai Xep Fishing Village is situated in the Quy Hoa sea area, about 13km from Quy Nhon city. It's a small fishing village with around 100 households whose primary livelihood is fishing. The village is transitioning toward community-based tourism and offers a range of accommodation options, from budget homestays to upscale resorts. The Bai Xep area features natural rock formations emerging from the sea, smooth golden sandy beaches, making it an ideal spot for photography. When visiting Bai Xep, you can not only enjoy the pristine beauty and peaceful atmosphere but also explore the daily lives of the local fishermen.
Read more: Nha Trang, Vietnam: Places to Visit & Things to Know
Nhon Ly Fishing Village
Nhon Ly Fishing Village is located in Nhon Ly commune, about 20km from Quy Nhon city center. This commune is home to approximately 10,000 residents and still preserves many cultural relics of the Champa civilization. The villagers rely mainly on sea-related occupations such as fishing and seafood processing. Starting in 2023, Nhon Ly commune has become more vibrant, attracting many visitors due to colorful murals featuring various themes like flowers, plants, birds, and scenes closely related to the coastal village life, including fishing nets, sailboats, sharks, dolphins, and sea turtles.
Quy Nhon Cuisine
Quy Nhon cuisine is characterized by the flavors of the South Central region of Vietnam. Signature dishes include fish cake noodle soup, shrimp pancakes, and Fine Rice Vermicelli (a dish made from thin rice vermicelli woven into intricate bundles). Additionally, you should not miss the opportunity to savor fresh seafood such as squid, shrimp, clams, crabs, and lobster at reasonable prices.
Choosing Accommodation in Quy Nhon
Quy Nhon is renowned for beach resorts, making resort accommodation a top priority for most tourists. Here are some resorts for your reference:
Maia Resort Quy Nhơn
Anantara Quy Nhơn Villas & Resort
Casa Marina Resort Quy Nhơn
Crown Retreat Quy Nhơn Resort
Avani Quy Nhơn Resort & Spa
Read more: Top 10 Best 4-Star Hotels in Quy Nhon, Vietnam
Some Tips for Visiting Quy Nhon
When going to the beach in Quy Nhon, make sure to prepare T-shirts, shorts, and flip-flops.
When swimming, choose crowded areas or locations with safety signs, as there are occasional shark sightings in this area.
If you're interested in snorkeling, consider going to Hon Kho Island, as it offers the best underwater scenery.
Sandboarding is a fun activity worth trying.
Conclusion
With its beautiful beaches and captivating tourist destinations, Quy Nhon is gradually becoming an ideal seaside destination in Vietnam. Although Quy Nhon is not a large city and its tourism services have yet to match its potential, the city's abundant coastal, island, and forest resources ensure its strong future development.