Da Nang is a destination chosen by many international tourists whenever they come to Vietnam, with its convenient geographical location and ownership of beautiful beaches. This place gathers all the elements to become the tourism center of Vietnam. Let's explore in detail about Da Nang tourism and the must-visit attractions together with S Vietnam Travel.
Overview of Da Nang
Da Nang is a beautiful city located in the middle of the map of Vietnam, very close to three UNESCO World Heritage Sites: the ancient capital of Hue, Hoi An ancient town, and the My Son sanctuary. Dubbed as the most livable city in Vietnam, Da Nang is always one of the most beloved and attracts the largest number of domestic tourists during each summer.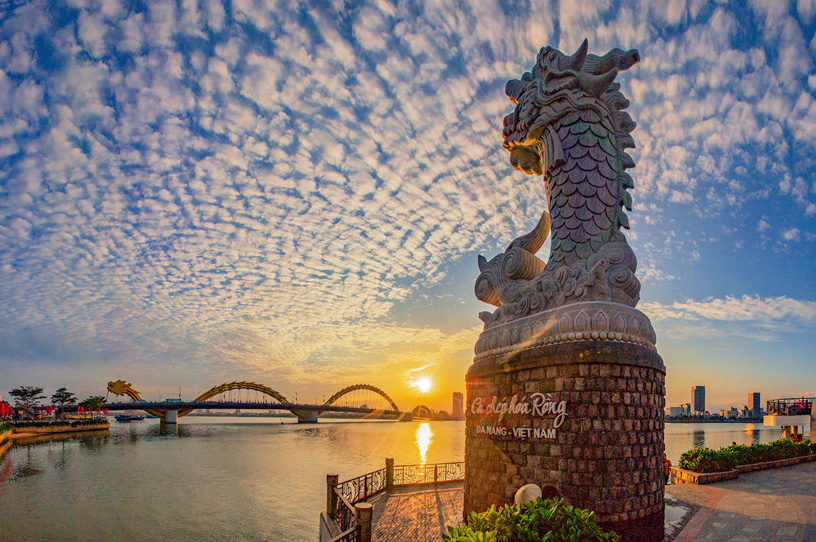 Da Nang is considered a city of tourism. It not only boasts stunning beaches with long stretches of white sand, but also possesses majestic mountains and vast rivers that run through the city. You can enjoy top-quality international-standard accommodation services at 4-5 star-rated tourist areas such as Furama, Sandy Beach, Son Tra Resort & Spa, or pristine ecological tourism areas like Suoi Luong, Ba Na, Son Tra, Non Nuoc. That's why Da Nang consistently ranks among the Top 10 most beautiful destinations in Vietnam.
Best time to visit Da Nang
Da Nang is situated in the middle of Vietnam, so its climate is a blend of both the North and South regions, creating a relatively mild weather, not excessively hot like Ho Chi Minh City and not overly cold like Hanoi.
The city of Da Nang typically experiences two distinct seasons each year:
Dry season from January to July.
Rainy season from August to December.
The peak domestic tourist season usually lasts from April to August. During this time, it's the hottest period of the year in Da Nang, attracting a large number of visitors for beach activities and relaxation, which can lead to slightly higher service prices. This is also when the city hosts the International Fireworks Festival, food festivals, and vibrant cultural and artistic performances.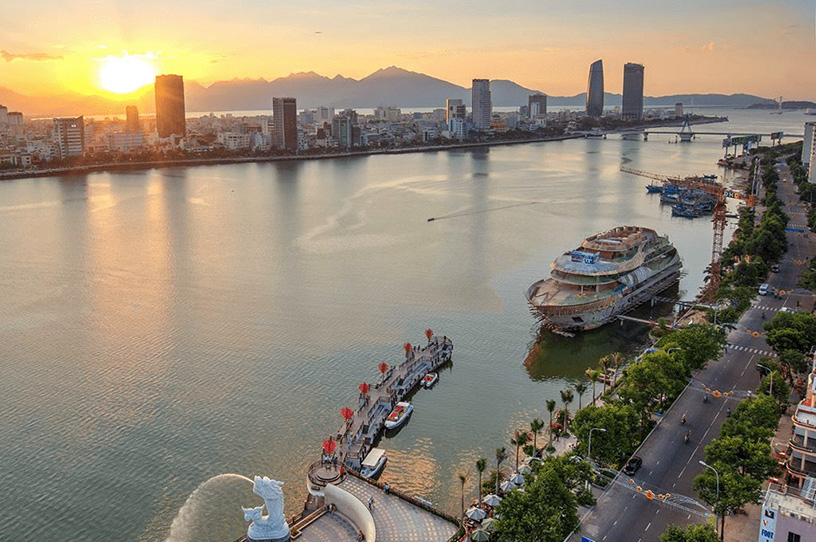 From mid-September to the end of December, the weather in Da Nang becomes pleasant, with no intense heat and occasional light rains that do not last long. The peak domestic tourist season has passed, so airfare, accommodation, and dining prices are significantly reduced.
From early January to the end of March is the international tourist season in Da Nang. The weather is cool and comfortable with minimal rain, ideal for exploring the city. Prices for hotel services, airfare, transportation, and dining during this time are considered to be the most stable throughout the year.
Read more: Best Time To Visit Vietnam
Transportation to Da Nang
There are several available modes of transportation to reach Da Nang, and you can travel by air, rail, or road, all of which are quite convenient. Due to Da Nang's central location, tourists from both the North and South of Vietnam often choose to travel by air to save time, as flight ticket prices to Da Nang are quite affordable.
By Air
Currently, domestic airlines such as Vietnam Airlines, Vietjet Air, and Bamboo Airways operate flights to Da Nang, with an average flight time of 1 – 1.5 hours for departures from major cities. You can easily find and book flight tickets to Da Nang at attractive prices.
By Rail
In addition to airplanes, trains are also a popular mode of transportation for tourists, as Da Nang has a train station located right in the city center, making travel easy. If you have more time, around 15 hours on the train, you'll have the opportunity to admire the natural scenery on both sides of the railway as it passes through various provinces and cities.
By Road
With road transportation, you can either rent a private car or purchase bus tickets to travel to Da Nang. However, Vietnam's highway network is not fully developed, so you might experience some exhaustion while traveling by this mode of transportation.
Read more: 14 Most Attractive Tourist Destinations in Nha Trang
Best tourist attractions in Da Nang
Cruising on the Han River in Da Nang
Exploring Da Nang by river is a quite interesting experience and a highly favored service in the city. You will board a tourist boat, enjoy a drink, and cruise along the Han River around the city. You'll admire the sparkling bridges illuminated in the evening, enjoying a relaxed and pleasant atmosphere during the 1 hour 30-minute journey.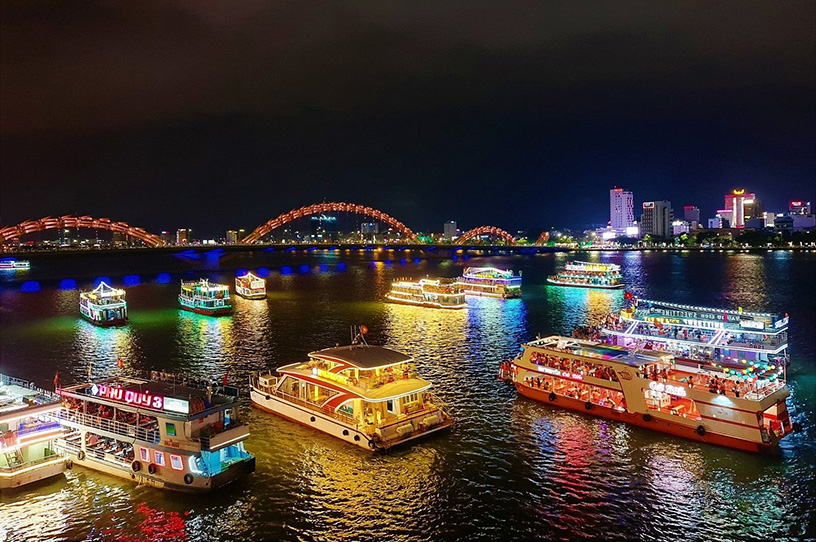 My Khe Beach
Stretching about 1 km, My Khe Beach is located right in the center of Da Nang and has been voted as one of the most beautiful beaches in the world, making it a must-visit destination. At My Khe Beach, you can engage in various exciting activities such as canoeing, parasailing, surfing, windsurfing, enjoying the amusement park at East Sea Park, snorkeling to view coral reefs, and many other activities catering to tourists.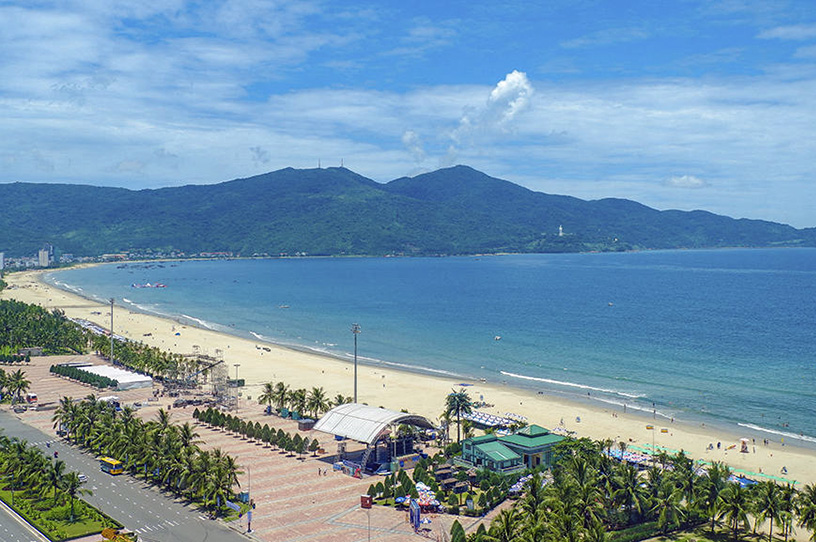 Ba Na Hills
Ba Na Hills is a grandly invested international-level tourist destination located about 40 km from the center of Da Nang. To reach it, you'll drive to the cable car station and then take a cable car to the top of Ba Na Mountain. During the cable car ride, you'll be treated to many beautiful views below, and as you ascend, the temperature gradually decreases, so it's advisable to bring a light jacket.
Ba Na Hills boasts various architectural styles, from the classical designs of European castles, the romance of French villages, wine cellars, to unique amusement areas. Especially, the famous Golden Bridge with its distinctive hand-shaped architecture amidst nature is an iconic sight not to be missed.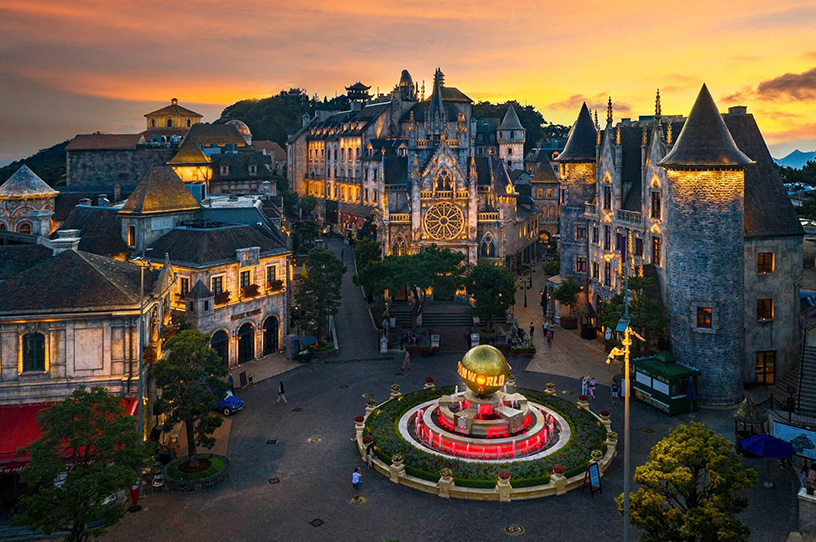 Son Tra Peninsula
The Son Tra Peninsula is just 8 km from the center of Da Nang and features a unique coastal pristine forest ecosystem in Vietnam. Standing atop the mountain, you can take in the entire city of Da Nang. Here, you can engage in many exciting activities like snorkeling to view coral reefs, fishing with local fishermen, enjoying a helicopter view of the city, or visiting the Chessboard Peak. Don't miss the Linh Ung Pagoda located on the hilltop.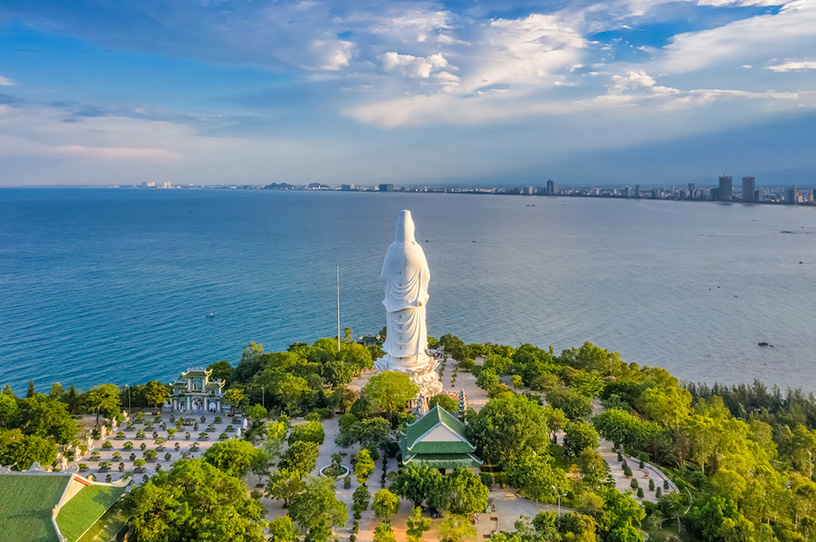 Non Nuoc Beach
Non Nuoc Beach is beloved by many tourists for its smooth white sand, gentle sloping gradient, clear blue sea with mild waves, and an ideal area of offshore reefs that's perfect for outings and camping. When viewed from above, the beach forms a large crescent shape, winding around the base of Ngu Hanh Son Mountain, creating a truly beautiful natural scene.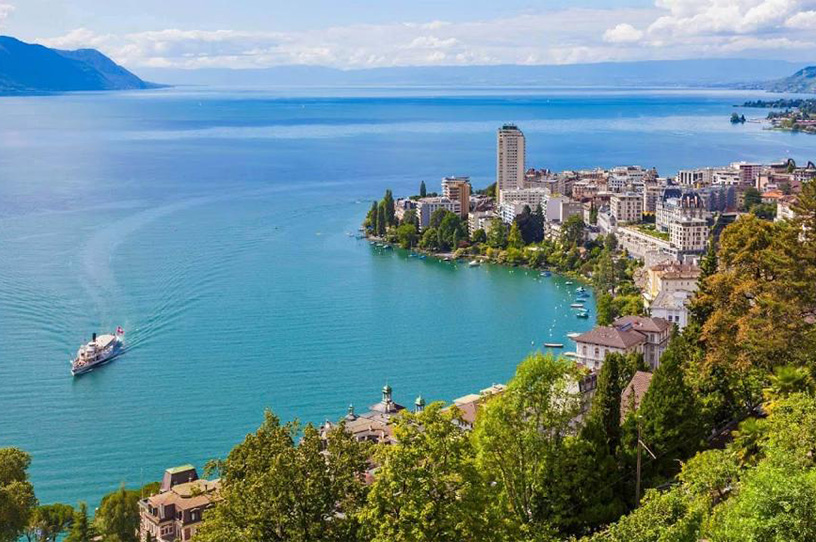 Bridges in Da Nang
Da Nang is graced with large rivers flowing through the city, which is why it's not lacking in famous bridges. These bridges not only serve transportation and economic development but also become tourist attractions and symbols of Da Nang. The most prominent among them are the Han River Swing Bridge and the Dragon Bridge.
Han River Swing Bridge
This is Vietnam's first swing bridge. The part of the bridge situated on the central pillar can rotate 90 degrees parallel to the river, creating a gap for large cargo ships to pass through. This process takes about 15 minutes according to a fixed daily schedule, making it an exciting time that many tourists gather to witness.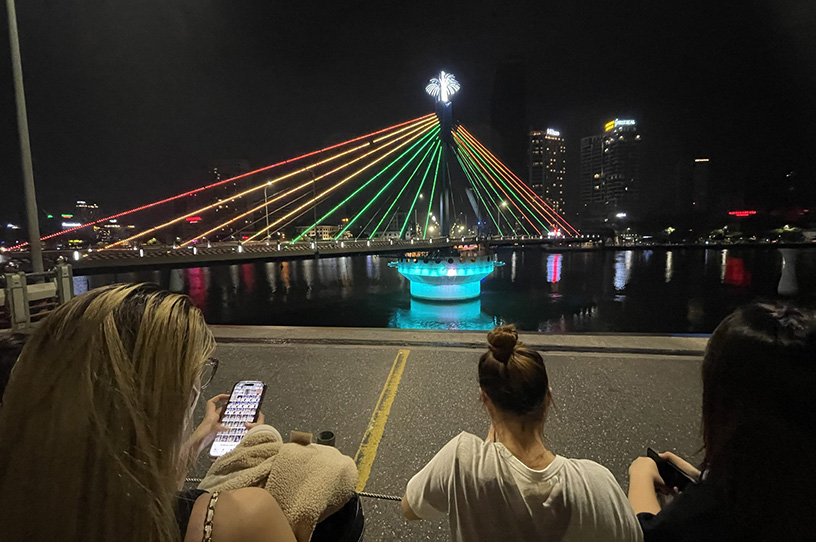 Da Nang Dragon Bridge
The hallmark of this bridge is its depiction of a dragon with a length equal to that of the bridge itself. What's more impressive is that this dragon can breathe fire or spew water on scheduled days of the week. The evening is the most beautiful time to visit the bridge, as it's illuminated by thousands of LED lights.
The schedule for the Da Nang Dragon Bridge's fire show is at 9:00 PM every Saturday, Sunday, and major holidays to entertain tourists. The fire show consists of two rounds, each featuring nine fire-breathing displays. Following this is a water display with three rounds, each featuring one water spout. This activity has made the Dragon Bridge an impressive tourist destination in Da Nang, attracting a multitude of tourists each year.
Additionally, there's the Thuan Phuoc Bridge, the largest cable-stayed bridge in Vietnam, the Tran Thi Ly Bridge, named after a heroic woman during the anti-American resistance, and the recently constructed Love Bridge.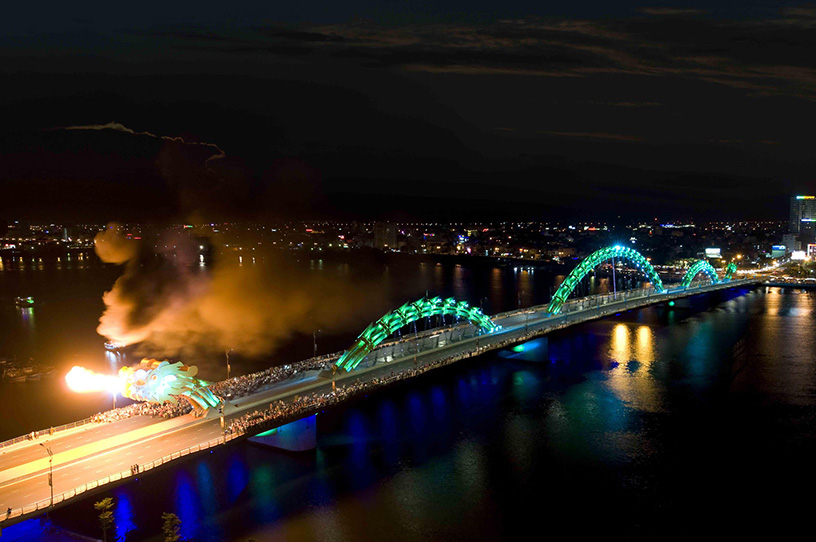 Museums in Da Nang
The Cham Sculpture Museum is located at 2 2/9 Street, Hai Chau District, Da Nang. It is the sole museum dedicated to Cham culture, preserving artifacts from the ancient Champa Kingdom.
The Da Nang Fine Arts Museum is situated at 78 Le Duan Street, Hai Chau District, Da Nang. This museum preserves and displays over 1,000 modern artworks and folk art pieces, showcasing traditional Vietnamese handicrafts.
The Buddhist Museum is within the Quan The Am Pagoda complex, at 48 Su Van Hanh Street, Ngu Hanh Son District, Da Nang. Here, you can admire over 200 ancient artifacts related to Buddhism.
Read more: 7 Museums in Ho Chi Minh city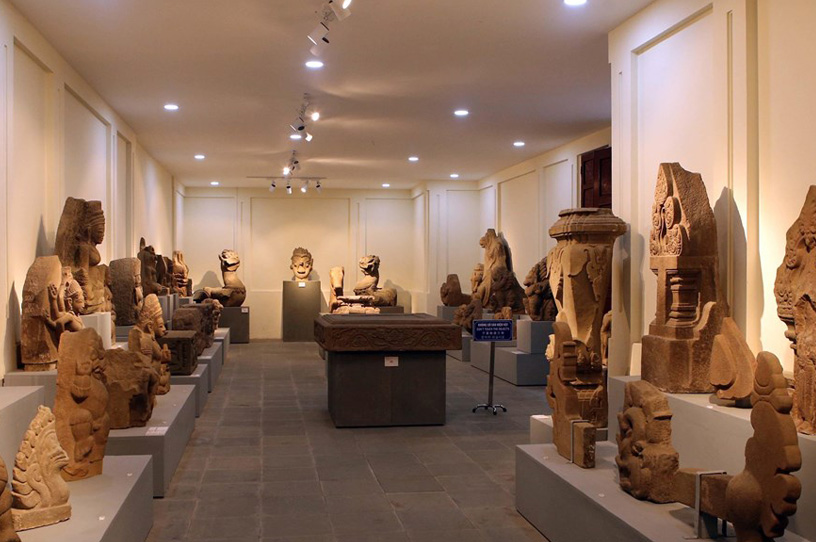 Ngu Hanh Son
Ngu Hanh Son, located 10 km from the city center of Da Nang, is a complex of five limestone mountains, including Kim Son, Moc Son, Thuy Son, Hoa Son, and Tho Son. This tourist spot leaves an impression not only due to its majestic landscapes but also its cultural architecture, bearing a significant historical imprint. This location has been recognized as a national-level historical and cultural heritage.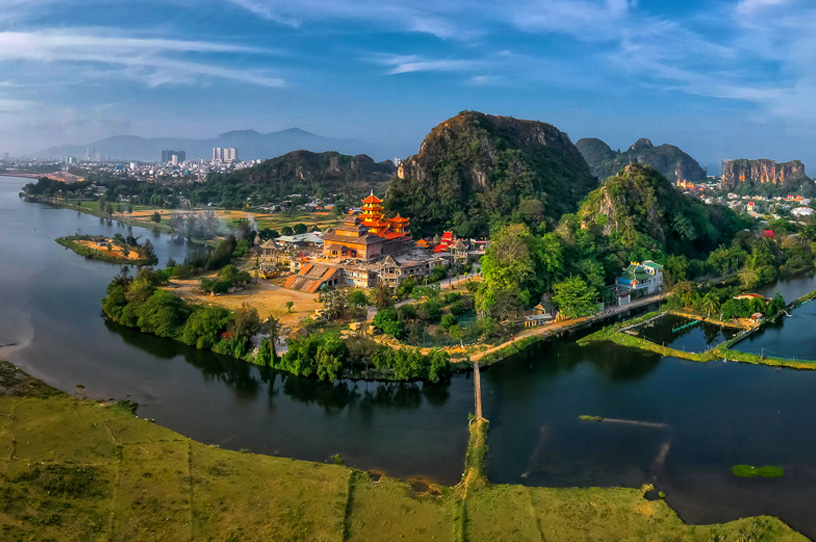 Tien Sa Lighthouse
Tien Sa Lighthouse, also known as Son Tra Lighthouse, was built by the French and officially put into operation in 1902. It is hailed as the most beautiful lighthouse in Vietnam. Its purpose was to assist fishermen in determining their positions within the maritime areas of Hue and Da Nang. Tourists exploring Da Nang can visit this place to enjoy a breathtaking aerial view.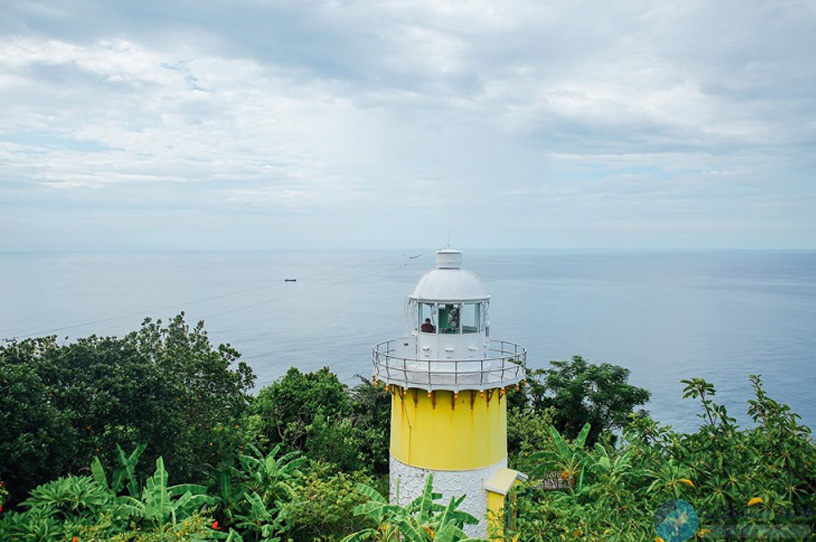 Markets in Da Nang
If you want to purchase local goods and culinary products in Da Nang, you should visit Con Market and Han Market.
Situated on Ong Ich Khiem Street in the heart of the city, Con Market is considered a snacking paradise with numerous stalls bustling with customers. It offers a wide variety of food items, especially Da Nang's specialties such as rolled pork rice paper and Mi Quang noodles.
Han Market is also centrally located, near the Han River Swing Bridge. The market dates back to the 1940s and offers a diverse range of goods, including clothing, bags, souvenirs, and food products.
Read more: Top 8 Floating Markets in the Mekong Delta, Vietnam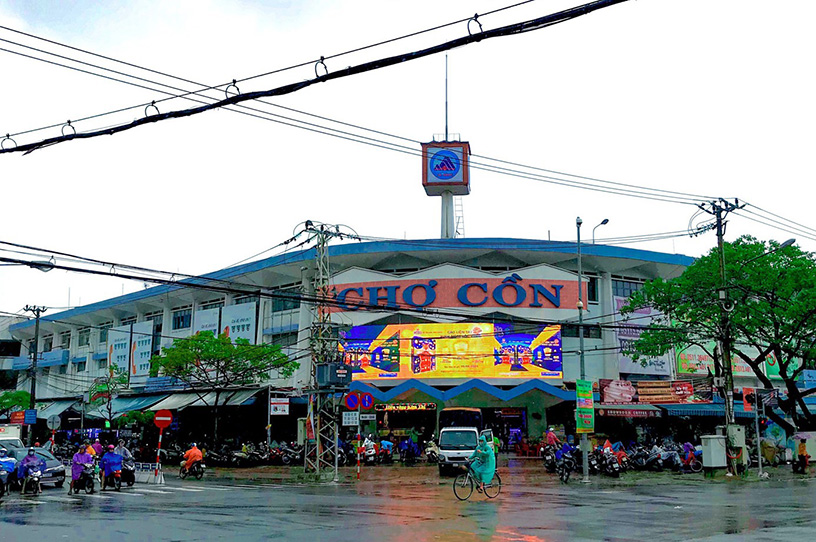 Parks in Da Nang
Asia Park – located right in the city center, is a large amusement park with a plethora of thrilling rides. Here, you can find intense attractions such as high-speed roller coasters, free-fall towers, an indoor play area with ball-shooting games, as well as various rides for children like carousels and monorails. Especially noteworthy is the Sun Wheel, a giant Ferris wheel, where you should definitely have an experience.
Address: 1 Phan Dang Luu Street, Hoa Cuong Bac Ward, Hai Chau District, Da Nang.
APEC Park is a recently completed attraction that stands out with its unique architectural design featuring a dome shaped like a soaring kite.
Address: Binh Hien, Hai Chau District, Da Nang.
Mikazuki Danang Water Park
This destination is situated within the Da Nang Mikazuki Japanese Resorts & Spa entertainment complex. The water park consists of both indoor and outdoor areas. You can fully enjoy the water park's various activities without worrying about weather conditions, as the water temperature is maintained at a comfortable 30 degrees Celsius (86 degrees Fahrenheit) for the best experience for visitors.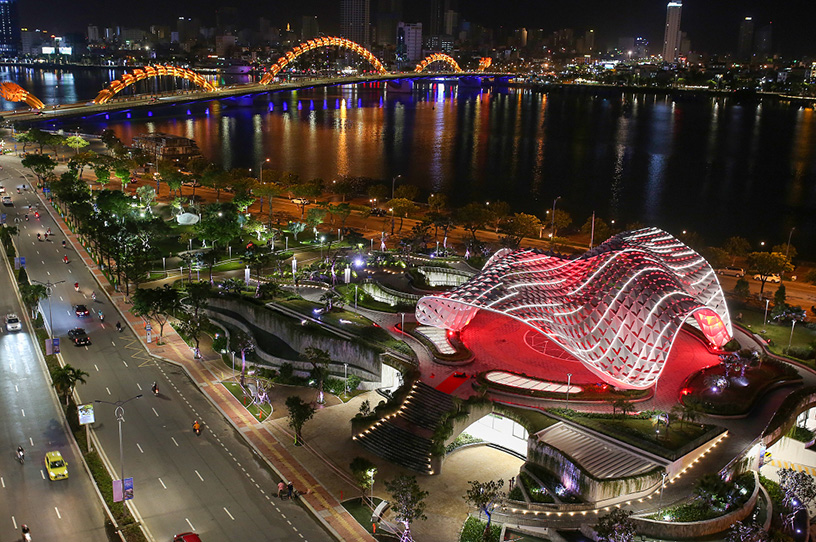 Hai Van Pass
If you're someone passionate about conquering nature, then you definitely can't miss Hai Van Pass with its winding route – on one side, towering mountains, on the other, the blue sea and white clouds. Hai Van Pass is about an hour's motorbike ride from the center of Da Nang. The pass spans 21 kilometers, with its highest point at 496 meters above sea level. "Hai Van" translates to "Sea Cloud." This place was once commented on by Jeremy Clarkson, the host of the reality TV show Top Gear, as "one of the most beautiful coastal roads in the world."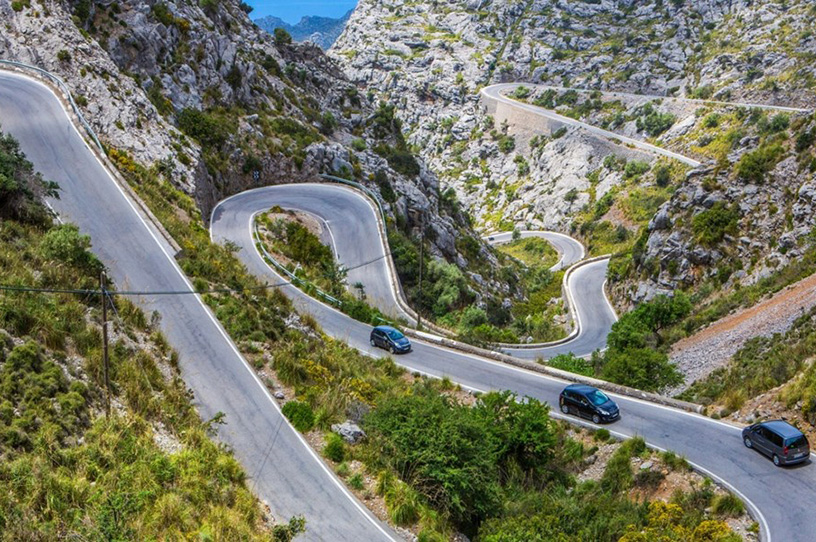 Craft Villages in Da Nang
Cam Ne mat-weaving village is located in Hoa Tien commune, Hoa Vang district, about 14 kilometers southwest of Da Nang's center. This place has long been known for producing traditional flower mats, which were present even during the reign of the Nguyen dynasty.
Tuy Loan rice paper-making village is situated in Hoa Phong commune, Hoang Vang district, about 15 kilometers from the city center. This over-500-year-old village is perfect for exploring Da Nang's history. The village is renowned for its craft of making rice paper and Mi Quang noodles.
Non Nuoc Stone Carving Village is located at the foot of the Ngu Hanh mountain. This traditional craft village, with a history of nearly 400 years, is famous for its beautiful and intricate stone carvings, created by the skilled hands of artisans.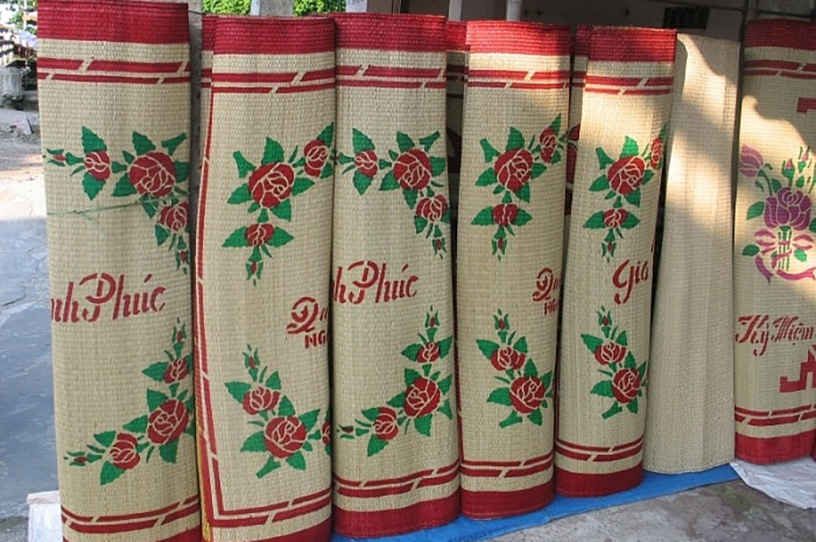 Da Nang cuisine
The culinary scene in Da Nang is quite diverse, offering distinctive flavors and many enticing dishes, especially seafood. However, there are three quintessentially Vietnamese dishes that we would like to introduce:
Quang Noodles
Although this dish originates from Quang Nam, Vietnam, anyone visiting Da Nang cannot forget to savor this specialty. The dish features simple and familiar ingredients such as chicken, pork, shrimp, and more.
Some renowned places for Mi Quang in Da Nang:
Mi Xu Quang: 2 Phan Dang Luu Street, Hai Chau District, Da Nang.
Mi Quang Ba Mua: 19-21 Tran Binh Trong Street, Hai Chau District, Da Nang.
Mi Quang Ba Lu: 126 Ham Nghi Street, Hai Chau District, Da Nang.
Read more: Top 7 Restaurants in Da Nang for Best Dining Experiences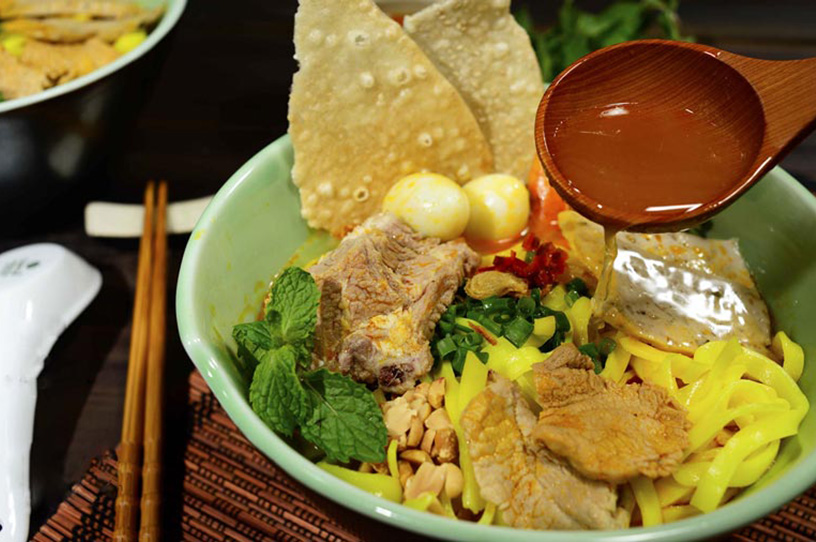 Pork Rice Paper Rolls
Banh trang cuon thit heo, or pork rice paper rolls, might seem simple, but the pleasure of enjoying them is quite intricate. Thinly sliced boiled or grilled pork is combined with fresh herbs and complementary ingredients, then rolled in a soft and elastic rice paper. After rolling, it's dipped in a special sauce called "mam nem" before savoring.
Addresses for your reference:
Quan Tran: 4 Le Duan Street, Hai Chau District, Da Nang.
Quan Mau: 35 Do Thuc Tinh Street, Cam Le District, Da Nang.
Read more: Top 7 Vietnamese Rolls You Should Try
Crispy pancake, Pork skewers
Crispy pancake is a rustic and popular dish found in many central and southern provinces of Vietnam. In Da Nang, this dish has its own unique characteristics. The filling of the crispy pancake contains shrimp and some greens, while the thin and crispy pancake itself is not overly thick or thin. It can be enjoyed with grilled pork skewers.
Notable Crispy pancake eateries are concentrated along Hoang Dieu Street, Trung Nu Vuong Street, Chau Thi Vinh Te Street, and Dong Da Street.
Addresses for your reference:
Quan Ba Duong: K280/23 Hoang Dieu Street, Hai Chau District, Da Nang.
Quan Co Muoi: 23 Chau Vinh Te Street, Ngu Hanh Son District, Da Nang.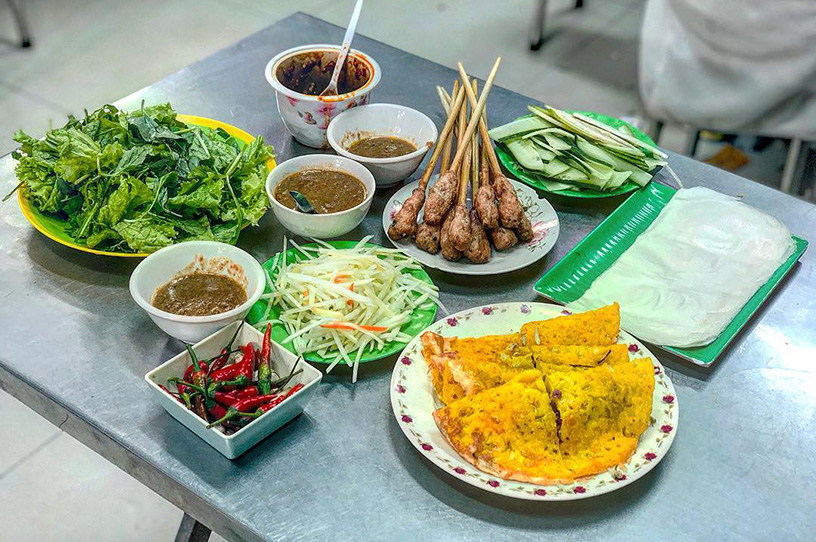 Some good hotels in Da Nang
Here are some good hotels in the central area of Da Nang for your convenience in traveling to entertainment and dining areas:
Balcona Hotel Danang
Brilliant Hotel
Novotel Danang Premier Han River
Samdi Hotel Danang
New Orient Hotel Danang
Hanami Hotel Danang
Read more: Phu Quoc, Vietnam: Places to Visit & Things to Know
Golf Courses in Da Nang
Montgomerie Links Golf Course Da Nang
BRG DaNang Golf Resort
Ba Na Hills Golf Club Da Nang
Laguna Golf Lang Co, Hue
Vinpearl Nam Hoi An Golf Course
Hoa Phong – Hoa Phu Golf Course
Notes when visiting Da Nang
Below are some useful tips when traveling to Da Nang for your reference:
The best times to visit the beautiful beaches are during sunrise or sunset.
Make sure to have enough sunscreen, a hat, and other sun-protective clothing when visiting the beaches in Da Nang.
Due to the spacious recreational areas, wearing sneakers or comfortable sandals is recommended.
Da Nang is also enchanting at night, especially around the bridge areas and amusement parks, where the city is illuminated with colorful lights.
Absolutely do not litter on the beaches. If caught littering, tourists might face fines.
Check the price list before using any services.
Conclusion
Da Nang possesses all the outstanding elements to become a top tourist destination in Vietnam. Moreover, with strong infrastructure investment, strategic geographical location, rich culture, and favorable natural conditions, Da Nang is poised to become a tourism hub in Asia, attracting a large number of international tourists each year.
With the essential information about Da Nang tourism and the recommended places to visit that we've provided above, we hope you will fully explore Da Nang. If you need further advice or wish to book a complete tour to Da Nang, please feel free to contact our travel advisors for assistance.