Hue is the city that owns many ancient architectural monuments of Vietnam, mainly including palaces, temples and pagodas. If you need to find a peaceful place, fresh air, friendly people, this will be a great destination. Here are 7 top tourist attractions in Hue that you shouldn't miss.
Read more: Top Attractions in Hoi An
Thien Mu Pagoda
Located on the banks of the beautiful Perfume River of Central Vietnam, Thien Mu Pagoda is ranked one of the twenty most beautiful sceneries in Hue. For many people, Thien Mu Pagoda is a sacred and mysterious place.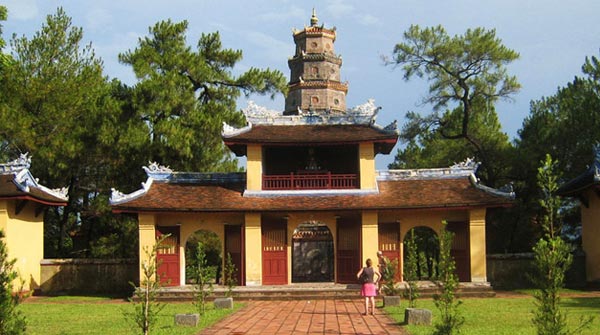 The temple was severely damaged in 1943. Later, it was repaired on a large scale, lasting over 30 years. Nowadays the pagoda is well-maintained and welcoming to all visitors.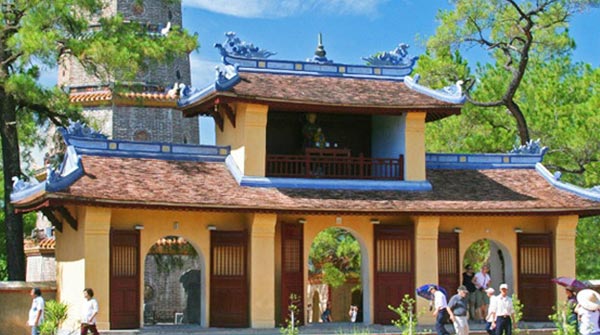 Location: Hue, Vietnam
Address: Kim Long, Hue city
Opening hours: 8:00AM – 5:00PM
Entrance fee: Free
Read more: Top Attractions in Ho Chi Minh city
Hue Citadel
Famously being one of Vietnam's seven UNESCO World Heritage Sites, the Imperial City of Hue has long been a must-see attraction for tourists visiting a hidden charm of Vietnam.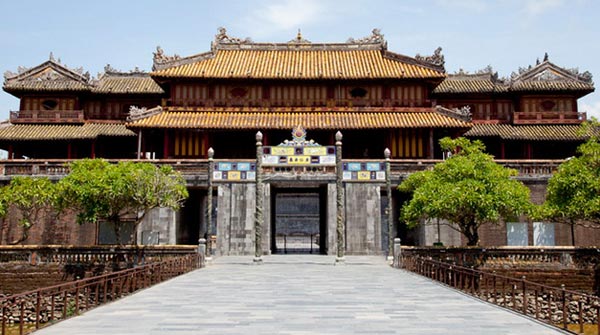 The Imperial City of Hue was actually a walled fortress and palace belonged to the ancient city of Hue which was a capital city of the Nguyen Dynasty for 140 years date back from 1805 until 1945. Surrounding the city is the complicated canal system served not only as a protection but also as a waterway with nearly seven kilometers.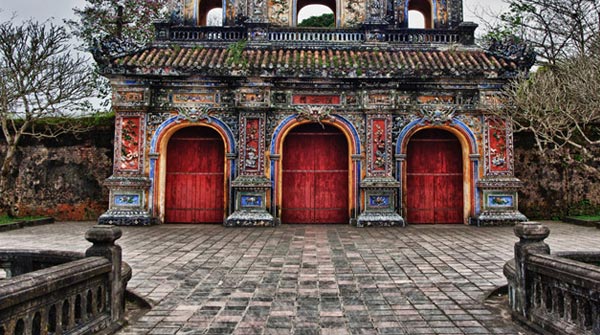 Just prepare 50.000 VND for the ticket and all there's left for you to do is sightseeing the magnificence of the Imperial City of Hue.
Location: Hue, Vietnam
Address: Hue city
Opening hours: 8am – 5pm
Entrance fee: Free
Read more: Top Attractions in Hanoi
The Flag Tower
As one of the impressive attractions in Hue, the most impressive viewing angle to contemplate Flag Tower is on the highest railing in the east of Nam Giao. It is also the one of the best views overlooking Hue city.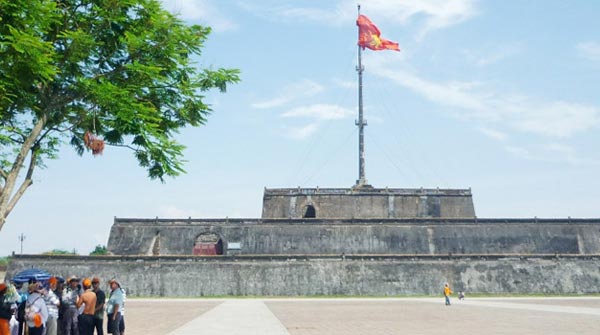 The Flag Tower, also called the King's Knight, is the focal point of Hue city. It is commonly known as a flagpole, but viewed from the Imperial City, it is really a huge structure of three flat-top pyramids, one lying on top of another.
Festival Hue, a Hue brand in integration and innovation, also celebrates the opening and closing ceremonies at this sacred venue. Flag Tower deserves a symbol and Hue attraction where tourists should once set foot in. Here, tourists will actually get unforgettable emotions.
Location: Hue, Vietnam
Address: Hue Imperial Citadel, Hue city
More information: https://whc.unesco.org/en/list/678
Opening hours: Opens daily from 7:00 am – 5.30 pm
Entrance fee: Include Imeprial Citadel tickets: Adult/child 150,000/30,000d
Read more: Top Attractions in Halong Bay
Bach Ma National Park
Bach Ma national park has beautiful scenery and fresh air. This is the most important resources eco-tourism of Bach Ma area.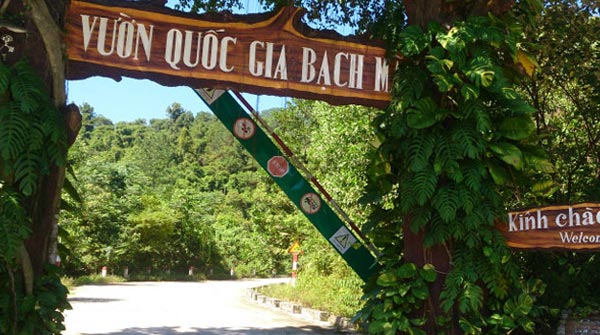 Bach Ma National Park is an old French Hill station stretching out over some 40,000 unspoilt hectares and offering great hiking trails, waterfalls, slightly odd and very basic lodgings, a camp site and plenty of wildlife (keep that tent zipped up).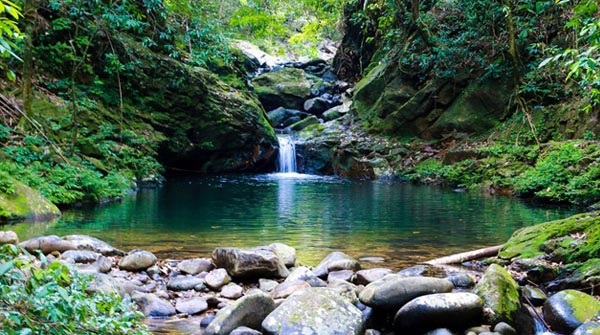 Bach Ma national park still preserved diversified flora and immense old-growth forest. The forest consists of specious woods; some tree has 80-100 centimeters. Flora is various, there has 1.406 species. Bach Ma also has more 300 species herbs.
Location: Hue, Vietnam
Address: Phu Loc, Hue
More information: 220 km²
Opening hours: All hours
Entrance fee: 40.000 vnd
Minh Mang Tomb
This tomb is far about 12 kilometers from Hue, on the Cam Ke mount and on the west bank of the Huong River. The construction began in September 1840. While the tomb had been building, Minh Mang was sick and passed away in January 1841. King Thieu Tri continued completing the tomb according to his father's plans. And it was accomplished in 1843.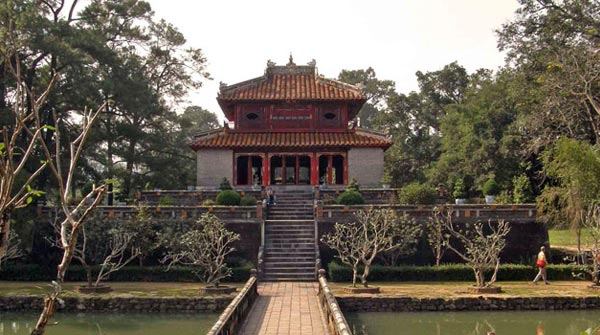 Tourists must climb 33 stone steps to reach the tomb. In addition, visitors can see the poems in the stele pavilion, Hien Duc gate, Sung An temple and Minh pavilion of Vietnam's early 19th century. Coming to Hue, visitors will have unique impression in Minh Mang tomb about ancient architecture and solemn space.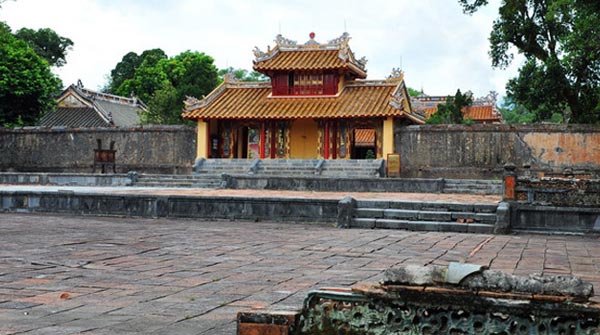 Location: Hanoi, Vietnam
Address: Huong Tho, Hue
Opening hours: 7:30 AM – 5:00 PM
Entrance fee: adult/child 100,000/20,000d
Khai Dinh Tomb
Khai Dinh was an extremely unpopular ruler during his lifetime, mostly due to his close collaboration with the French. To finance the tomb, he requested permission of the French advisors to raise taxes on the peasantry, which they allowed. Although he died prematurely at age 40 of tuberculosis, his son and successor, Bao Dai, completed the tomb several years later. Bao Dai would prove to be the final ruler of the Nguyen dynasty and lived until 1997. Thus, the Tomb of Khai Dinh became the last grand imperial tomb in Vietnam.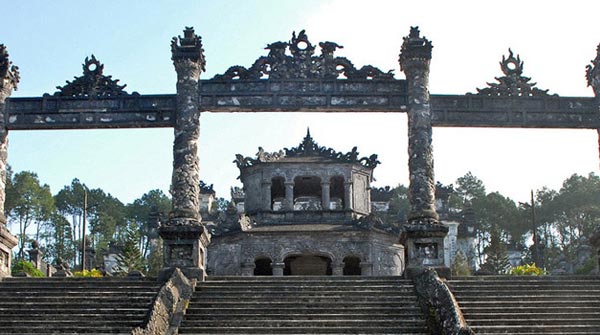 Location: Hue, Vietnam
Address: Thuy Bang, Huong Thuy, Hue Province
Opening hours: 7:30 AM – 5:00 PM
Entrance fee: adult/child 100,000/20,000d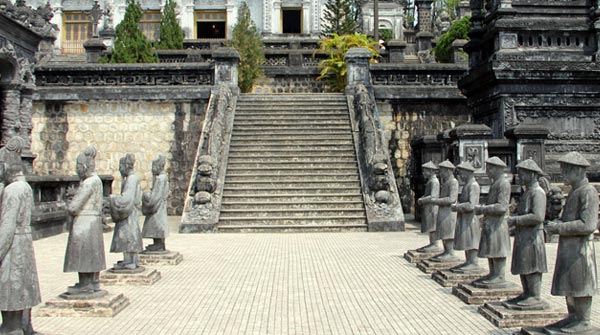 Lang Co Beach
Most tourists joining tours in Vietnam are attracted to this beach because of its attractive natural landscape. Lying on the most beautiful curve of the country, Lang Co has almost everything that the nature can offer: green mountains and tropical forests, smooth white sand, full of sunshine and cool, blue and clear sea as crystal. It is the 3rd bay of Viet Nam, after Ha Long and Nha Trang named in the list of 30 most beautiful bays in the global.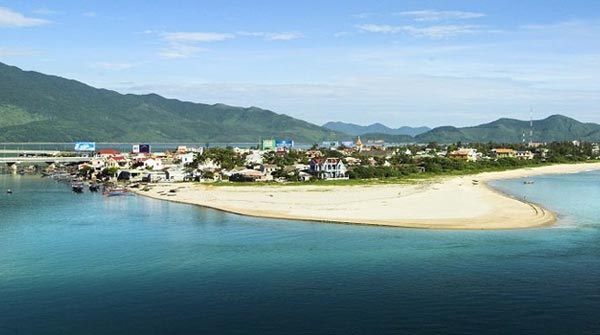 Read more: Vietnam Beach Holidays
Location: Hue, Vietnam
Address: Lang Co commune, Phu Loc district
Opening hours: All hours
Entrance fee: Free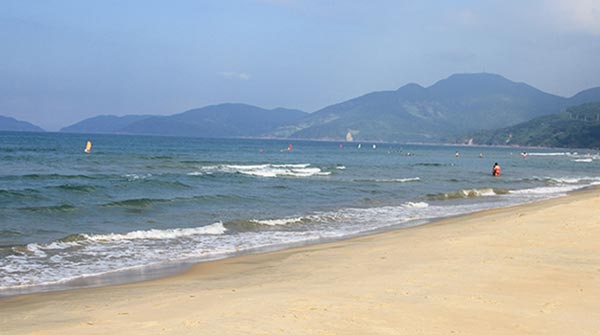 Conclusion
Hue not only has beautiful beaches, white sand, it also has many ancient relics. We have just discovered 7 attractive tourist destinations in Hue city, if you need a tour to visit Hue city, don't hesitate to contact us.