It is a pity if you explore Vietnam without visiting Halong Bay. This place is so famous in the world with many awards from prestige organizations (Natural heritage of the world – UNESCO, new natural wonder of the world – New7Wonders).
The charm of Halong Bay is in the natural beauty with thousands of large and small islands undulating on the calm, blue sea, combined with many beautiful caves and beaches. Discovering Halong Bay on luxury overnight cruise ships, enjoying local cuisine, kayaking… will be interesting and memorable travel experience for visitors. Let's find out Halong Bay with S Vietnam Travel as well as top 5 attractions and activities in Halong Bay.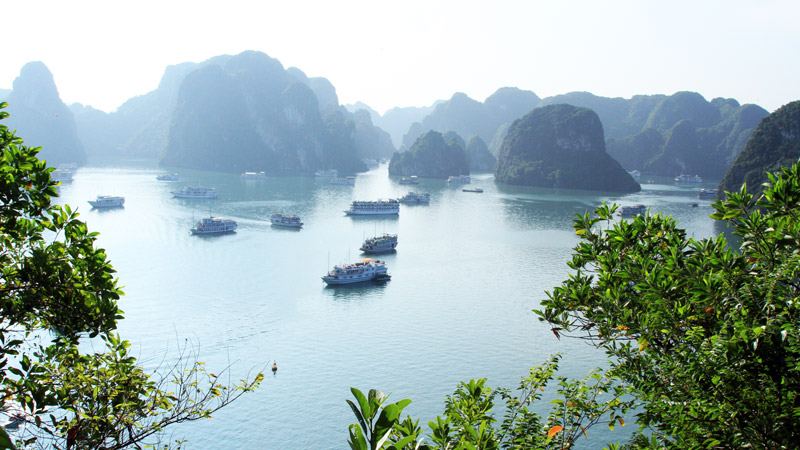 Halong bay overview
Location, area, islands
Halong Bay is located in the northeast of Vietnam, Quang Ninh province, 165 km from Hanoi capital. Halong Bay has an area of 1,553 km2 including 1,969 islands (980 islands have names).
In Halong bay, you should not miss the main islands: Tuan Chau Island, Ti Top Island, Bo Hon Island, Soi Sim Island,… and beautiful caves: Trinh Nu cave, Sung Sot Cave, Dau Go Cave, Luon Cave, Tam Cung Cave…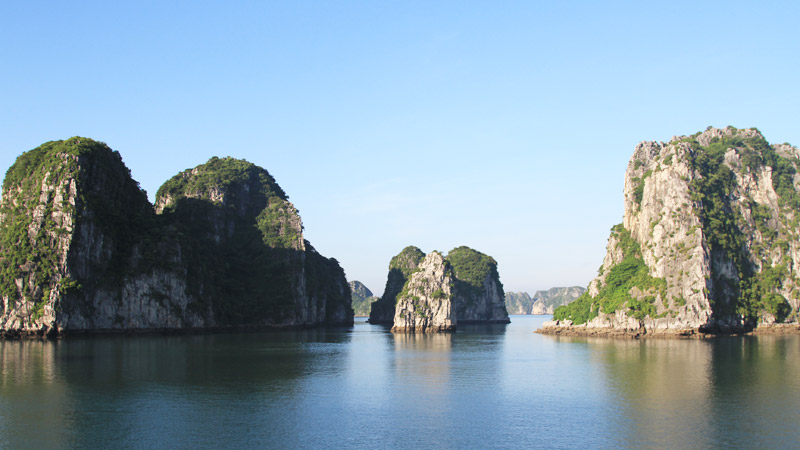 Read more: 10 Most Beautiful Places In Vietnam To Visit
Environment – climate
The period from October to December and March to May is the best time for a trip to Halong. The dry climate and pleasant temperature will help you enjoy all fun activities, relaxation, and sightseeing.
The average annual temperature is 23.7 degrees Celsius. Winter usually starts from November to February next year with an average temperature of 16.7 degrees Celsius, the coldest is 5 degrees Celsius. Summer from May to October with an average temperature of about 28.6 degrees Celsius, the hottest can be up to 38 degrees Celsius.
Read more: 7 Top Tourist Attractions in Hue city
Attraction in Halong bay
When coming to Halong Bay, beside overnight on luxury boats, you should not miss the following main attractions of Halong Bay:
1. Sung sot cave
Sung Sot Cave is located in the heart of Halong Bay, about 8 km from Tuan Chau pier – which is likened to the center of the world natural heritage Halong Bay. Most of the schedules of overnight cruises pass through this cave.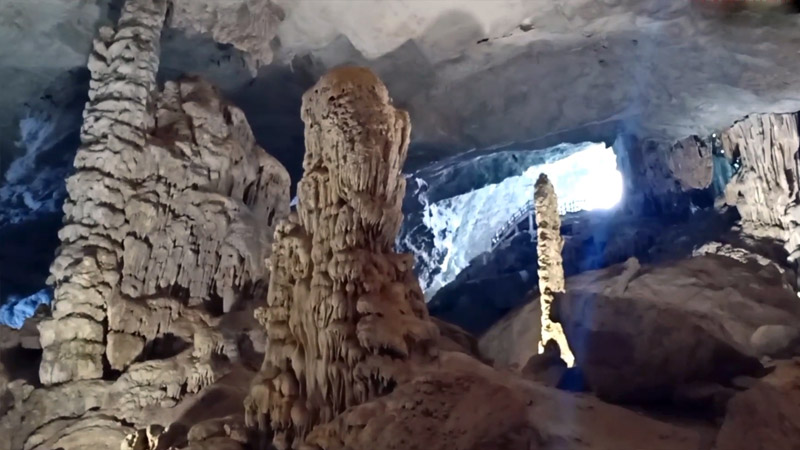 2. Luon cave
Luon Cave is one of the ideal sites for kayaking in Halong Bay (you can choose to take a bamboo boat – with locals rowing). With a length of about 100 meters, the journey through this cave will give each visitor an interesting feeling because of the beautiful natural stalactites hanging down from the ceiling of the cave.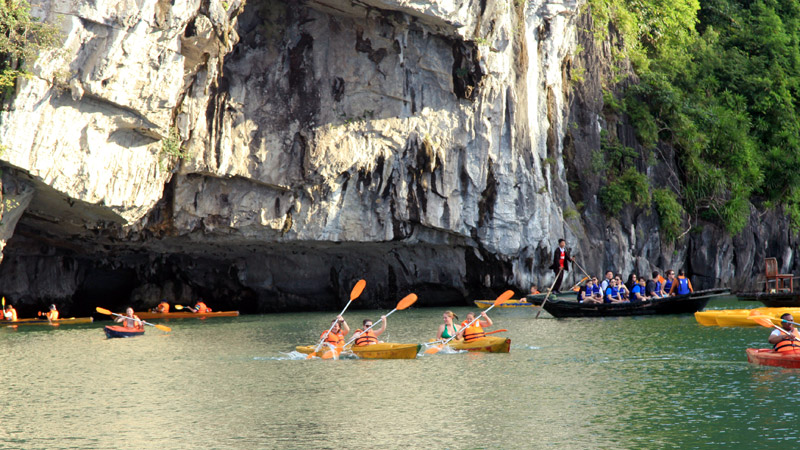 3. Titop island
Located about 8 km southeast of Tuan Chau wharf, it takes you 2 hours on the cruise to arrive at titop island. This is an ideal place for every visitor to immerse themselves in the clear blue water and natural scenery of Halong. Besides that, if your hobby is photography, Titop Island is a must-see. After passing about 400 stone steps you will come to the top of Titop Island. Most of the beautiful photos of Halong are all taken from here. With a 360-degree view, you can fully enjoy the panoramic view of Halong Bay from many different angles.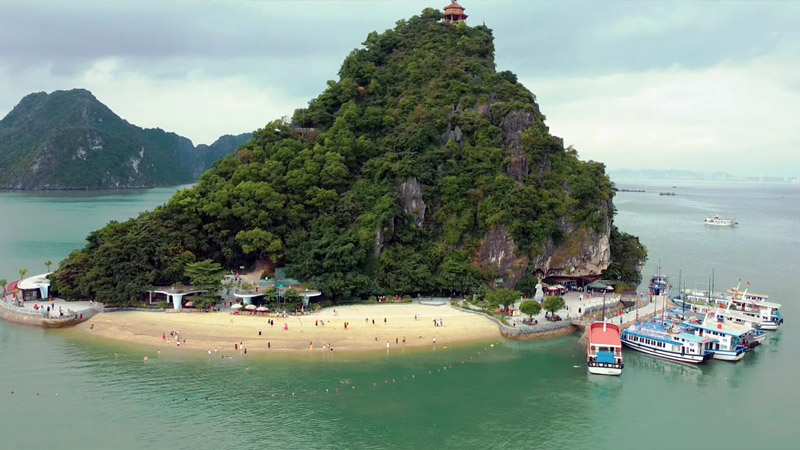 4. Cua Van fishing village
This place preserves the unique traditional culture in the ancient floating raft houses and bamboo stands in front of the houses. Visiting the Fishing Village, you will be directly guided by the local fishermen, showing you how to row a boat, cast a net, cash shrimp, fish and listen to stories as well as witness the idyllic life in the fishing village.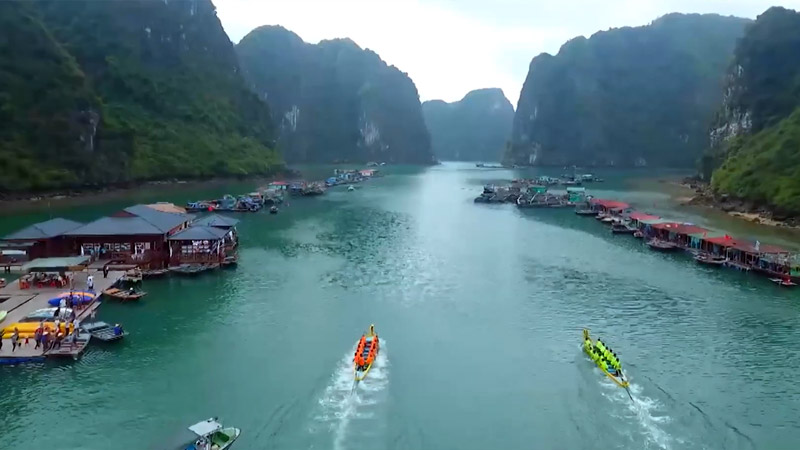 5. Thien Cung cave
This cave is considered as one of the most beautiful ones of Halong Bay. The nearly 10,000 square meter cave has a very complex structure. In particular, you will be amazed by the stalactites and stalagmites with strange shapes when entering Thien Cung cave.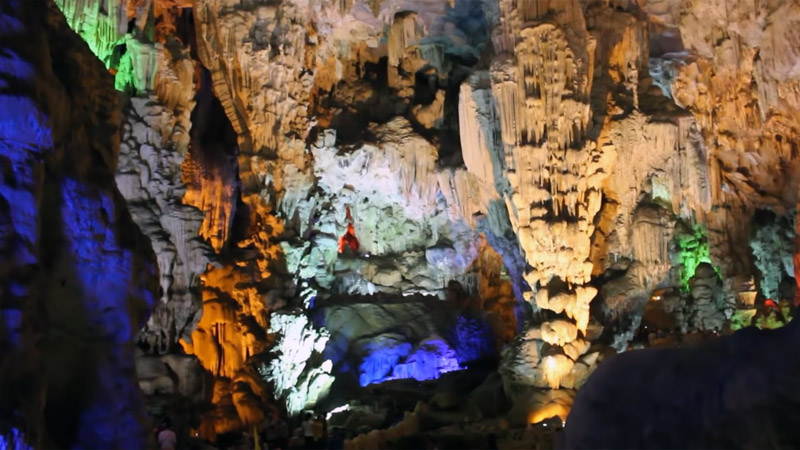 Read more: 9 Top Tourist Attractions In Ho Chi Minh City
Some experience when visiting Halong bay
How to visit Halong bay and schedule
Which kind of transport is convenient to visit Halong Bay? Here are some popular means for you to visit Halong Bay:
– Day cruise: Visiting time is from 4-6 hours, with price from 10 – 20 $, you can book directly at the pier.
– Overnight cruise: You will sleep, eat, live and participate in cruise activities with a schedule of 2 days 1 night or 3 days 2 nights. The price depends on cruise from 3 to 5 stars.
– Seaplane: You can explore Halong Bay from an altitude of 150m – 3000m in about 15 minutes on seaplanes. The price is about 5 million/person/time.
Activities in Halong bay
When visiting Halong Bay, you can participate in many interesting activities such as: Climbing, visiting caves, swimming, Yoga, kayaking…
Kayaking in Halong bay
Kayaking to explore Halong Bay is one of the most interesting experiences for tourists. Almost overnight cruises on Halong Bay will include this activity in their itinerary.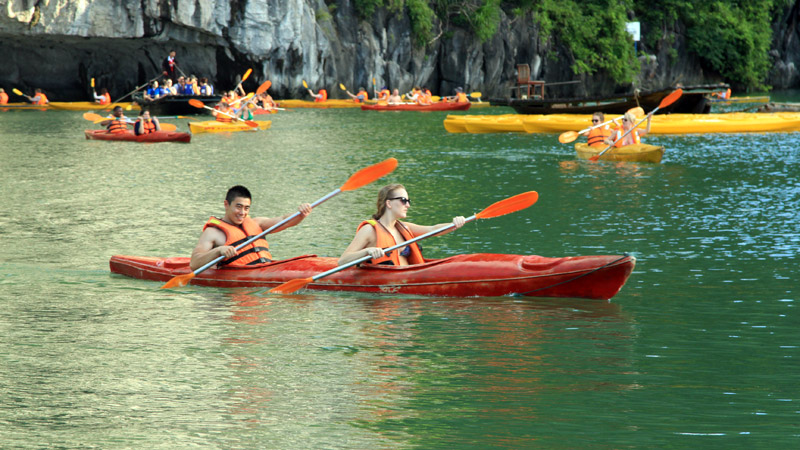 Climbing
The mountains here are not too high, you can completely conquer the top of the mountain easily. In return, you can enjoy the full view of Halong Bay and take great photos from the top of the mountain.
Visiting caves
Halong Bay has many caves with enchanting and mysterious beauty. You will admire the pristine stalactite caves formed tens of millions of years ago.
Swimming
Swimming is a great activity during a family vacation. You still enjoy swimming in rustic beaches like Titop or Soi Sim Beach. They have blue sea water and white sand. Don't miss it when you explore to Halong bay.
Conclusion
Visiting Halong Bay is an activity not to be missed when you come to Vietnam. We hope that our information is useful for your trip. If you have questions or want to book a tour to explore Halong Bay, please contact our travel consultant for more details.